The dynamically changing business requests have put organizations across the globe under pressure to increase time-to-market and deliver secure applications. The traditional managed services allowed only the MSPs in managing infrastructures and resolving issues. However, changing requirements of organizations further created a new trend of cloud among MSPs, which is widely popular as 'next-generation managed services'.
What is 

Next Generation Managed Services

?
Next Generation Managed Services is a term used to describe the latest evolution in the managed services industry. It encompasses a wide range of services that go beyond the traditional monitoring and management of IT systems.
The traditional managed services usually focused on security, incident management, patch management, access management, change management, and business continuity. The next-generation managed services deliver a new standard of operations and management, which includes containerized environment support, DevOps/DevSecOps integration, serverless architecture support, service intelligence and high level of IT infrastructure automation.
A Next-Generation Managed service provider offers a broad range of services that help businesses increase productivity, security, and efficiency. They use the latest technologies and tools to manage and optimize business processes. It involves the proactive management of an organization's entire technology environment with an eye on future needs.
It is a holistic, consultative approach that takes into account things like evolving business goals, current and future IT requirements, and budgetary constraints.
In addition to managing and monitoring devices and networks, Next-Generation MSPs proactively identify and prevent problems by using diagnostic and reporting tools. When issues do arise, service providers work with their clients to remediate them using pre-determined playbooks. This allows businesses to focus on their core activities without worrying about the stability or security of their technology infrastructure.
Advantages of Next-Generation Managed Services
Partnering with next-generation managed service providers offers numerous remarkable benefits to organizations. Key advantages of partnering with a next-generation managed service provider have been detailed below.
Containerized Environment Support
A well-designed containerization strategy that hinges on engineering best practices helps organizations prioritize software assets reusability and observability of running systems. The next-generation MSPs offer this to organizations, empowering them to deploy agile applications cost-effectively and faster. They offer services that fit immediate container needs of organizations, while making it easier for them to build microservices and automated pipelines.
DevSecOps Support
The support for development, security, and operations (DevSecOps) provided by next-generation MSPs address the security challenges of organizations via integration into every stage of the software delivery lifecycle. This helps organizations better understand the importance of continuous integration (CI) and continuous delivery (CD) in DevSecOps framework. Also, organizations are able to realize an efficient, automated productivity in their testing, production, and development environments.
IT Service Intelligence
Next-generation managed services offer a high level of service monitoring and event analysis, which empowers organizations to identify problems early and mitigate them almost instantly. Organizations further benefit from real-time insights on services, estimations powered by machine learning (ML) and artificial intelligence (AI), and simplified operations.
Automation Scaling
The one thing that Automation cannot do automatically is deploy or manage itself. Next-generation managed services enable organizations to run all services and components of their architecture in harmony, along with on-demand turnkey deployment. They enable organizations to track vital IT functions such as performance, thereby spreading awareness among teams of the infrastructure issues. The next-generation MSPs not only make daily activities easier for organizations, but also enhance overall business operations. This further results in higher customer satisfaction for organizations.
Serverless Architecture Support
By partnering with a next-generation MSP, organizations can enable their developers to save the time needed to set up servers and focus on optimizing other critical areas. They provision organizations with scaling individual functions rather than scaling an entire application. As servers are managed by the provider, developers are able to concentrate on making improvements to features instead of the infrastructure. This further enables organizations to enhance user experience.
Vendor Management
It is a tedious task for organizations to manage multiple vendors that handle varied aspects of their infrastructure. However, next-generation MSPs enable organizations to streamline their IT functions, which results in the requirement for a lesser number of vendors. They also help in the management of remaining vendor relationships for ensuring a stable infrastructure for organizations with a strategic roadmap.
Preventative Approach
A significant amount of organizations' IT budget is usually dedicated to making remediations to data and networks. Next-generation MSPs offer organizations a preventative methodology for maintaining and monitoring their IT systems. They also help organizations mitigate issues that impact their IT budgets before they occur.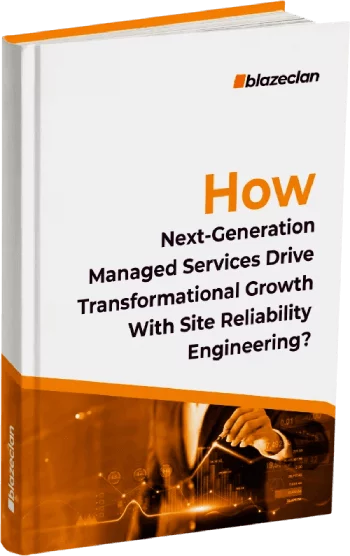 FREE RESOURCE
How Next-Generation Managed Services Drive Transformational Growth With Site Reliability Engineering
To Conclude
The next-generation managed services are ideal for organizations to blend automation and drive business growth significantly. These services not only help organizations their current consumption of cloud services effectively, but also ensure integration of industry best practices for smooth functioning of operations.
At Blazeclan our goal is to provide you with a worry-free experience that allows you to concentrate on your core business. From architecture and design, to monitoring and maintenance, we have you covered so you can focus on what you do best.
We are relentless in our pursuit of innovation and always looking for new ways to bring more value to our customers. Contact us today for consultation and see how we can help you take your business to the next level.