Multiple brands outsource to managed service providers (MSPs) in an effort to improve their operational output ratio and manage resources. This has contributed to the stagnant growth of the MSP market. Statistics show that MSP market size globally would reach USD 274 billion market value by 2026.
Yet, while outsourcing to MSPs is beneficial, it is essential to know which strategies are successful and which are engulfing company funds with no results. For this, tracking key performance indicators (KPIs) is crucial.
There are some Managed services metrics you should focus on mainly. Learn about them as you read ahead.
Need for measuring KPIs for Managed Service Providers
Cloud Managed service providers must understand their performance quality to analyze if the solutions they offer are compelling correctly. This is necessary, not just for the MSPs themselves but also for their clients.
Based on the data gathered, the MSPs can confirm what to improve upon to increase business profitability rate and service quality. Therefore, MSPs center their work heavily around the systems, processes, and professionals they invest in.
Customer satisfaction is critical for professional success, and organizations need to measure critical metrics to utilize their assets efficiently. Yet, statistically, MSPs struggle with planning effective solutions (32.6%) and finding prospective clients (50.6%) in the initial year of their assistance.
Estimating the Managed service provider KPI factors is a valuable solution to converge on at this point. These are effective for tracking the critical metrics for a company or project performance in the context of meeting pre-set targets and business goals.
Relying on a usable KPI is necessary, and for this, MSPs focus on monitoring the KPIs and setting profitable ones. Overall, KPI metric analysis is instrumental in helping an organization improve what they offer, increasing customer engagement, and boosting employee performance.
Versions of KPIs in the Managed Service Provider Industry
To note, there are approximately 12+ KPIs in effect in the MSP industry, especially related to IT support. Therefore, professionals have to gather a lot of data first, analyze the information, and then organize and report their findings.
With more than 20 metrics to manage across all sectors of one's business, the team may find it challenging to focus on every detail. So instead, they pick and choose particular KPIs more intensely. To do so, it is essential to analyze and figure out which KPIs have the most actionable potential.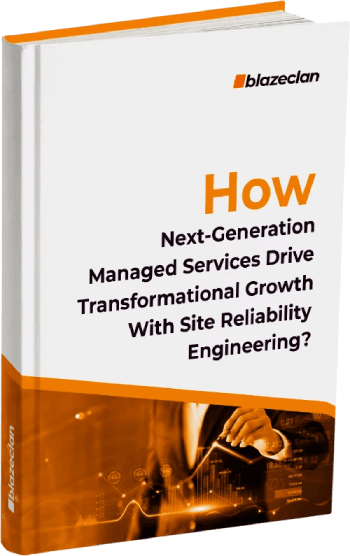 FREE RESOURCE
How Next-Generation Managed Services Drive Transformational Growth With Site Reliability Engineering
Top 10 KPIs You Must Focus on for Managed Services
To measure the efficiency rate of cloud managed services, it is essential to weigh the following Key Performance Indicators (KPIs) suitably.
1.First Contact Resolution Rate (FCRR)
In the context of customer satisfaction measurement, FCCR is a crucial element. With this calculation, the support team gets the necessary data about customers in order to improve their service responsiveness. For example, one global research under Microsoft showed that customers label a company's customer service as highly beneficial if they resolve their issue in the first contact interaction itself.
Therefore, measure the FCCR to revitalize your customer service quality. This metric is crucial for MSPs to invest more in employee training to increase the knowledge base of their support department. After that, most of the IT service technicians can give ticket solutions in one interaction.
2.First Level Resolution Rate (FLRR)
First Level Resolution focuses on measuring the capability of the service desk to resolve their customer tickets at the first Level. This would stop the escalation of the ticket to other levels, like Desktop Support, internal IT staff (networking, applications, data center, etc.), vendor support, or Field support.
Given their similarities, many often confuse the FLRR metric with FCCR. However, the truth is somewhat different; this metric is vital to measure the cost of the support operation throughout.
FLRR does not take into account at which Level of support the ticket resolution took place, and it focuses on all the support tiers entirely. In this industry, this is a key Managed services KPI to measure.
3.Technician Utilization
Technical support in a company mainly revolves around the service that the technicians deliver. Typically, the overall cost of ticket resolutions centers around those who handle the troubleshooting resolutions tasks.
MSPs need to balance the proportion of Technician Utilization value with technician turnover quantity. This is why this metric is essential to measure.
4.Recurring Revenue Growth Rate (Top Line Growth)
The top-line recurring revenue growth rate is exclusive to the latest periodic gross sales of any company. It calculates the total revenue growth in one year. Since this metric focuses mainly on the current revenue, MSPs use this to measure the sales team's efficiency, the existing buying inclination of the market, and the value of items/services on sale.
If the growth rate is low on the year-by-year top-line recurring revenue growth stats, it means the company is losing revenue instead of profiting. So you have to focus on upgrading your offerings and your team's sales skills when you see an unfavorable fluctuation.
For this measurement, subtracting the recurring revenue value from the current total new regular revenue amount is adequate. Then, divide the answer with the net-new recurring revenue amount of the prior year. Finally, convert the result into a percentage.
5.Total Recurring Revenue Growth Rate
It is crucial to calculate an organization's total recurring revenue growth to find its performance quality and growth rate. Here, the main focus for MSPs is on the core business engine.
They concentrate on the subscription-based amount of the recurring revenue, disregarding the unstable transactional payments. This covers both the current top-line Managed Services revenue and the previous year's total growth rate measurement.
6.Gross Margin
One of the critical MSP metrics is Gross Margin. This is the ratioed amount of gross profit without the cost of goods sold (COGS) and sales revenue. For example, Target saw a 28.4% gross margin in 2020. With this KPI, companies can understand the profit quotient in terms of their manufacturing activities.
For managed services firms in the cloud, it is necessary to consider a lot of expense factors like overheads, allocated costs, and operating expenses. So, MSPs calculate the gross margin in different manners; each provider interprets their direct and indirect costs in varying examples.
Despite the ongoing debate related to gross margin in the IT industry (what can justify as direct costs? Which falls under the indirect costs?), MSPs still focus on this metric.
Typically, the direct expenses here involve delivery expenses like incentives/employee base salary/benefits and direct FTE, all related to costs. Under technology, they consider platform/tool-specific costs and expenses for technology or embedded products.
7.Cost per Ticket
One of the most crucial KPIs to measure is the Cost-per-ticket metric. This focuses on the full-service operation of an MSP. Professionals calculate the monthly cost of the support group or service of an MSP based on the number of tickets cost breakdown per month.
Under the total monthly costs, this metric includes operational expenses like rent, systems, software, and technician salary amounts. With this KPI measurement, you can figure out the overall efficiency of the IT support in your company.
8.Net Operating Income
Another crucial metric that the MSP organizations focus on is the Net Operating Income. Compared to Gross Margin, this metric is more balanced, which helps measure the firm's profitability rate. The Net Operating Income refers to the metrics account (bottom line only) of the company's indirect and direct expenses.
In the context of managed services, a lot of indirect operating costs are necessary. They include Research and Development (R&D), General and Administrative (G&A), Sales, and Depreciation and Amortizations. Therefore, managing these departments incurs extra expenses; this falls within the net operating income measurement.
For this calculation, MSPs deduct every direct/indirect cost from the total Managed Services revenue and then divide it with the total MS revenue value.
9. Monthly Recurring Revenue (MRR)
The MRR is a crucial metric of measurement for managed services. This revolves around the steady business income of a company from its subscribers each month. MSPs target this KPI to find actionable insights on what measures to take to expand the business.
It would help if you considered factors like taxes and profitability rate as well to devise a comprehensive future business expansion plan.
10.Recurring Revenue Retention Rate
While measuring the recurring revenue growth rate is crucial to understanding a brand's performance level, so is the recurring revenue retention rate. This metric for MSPs relates to the recurring revenue that a company had from the previous year that they retain in the current business year.
The MSPs measure this by subtracting the current recurring managed services revenue (without any new RR value) out of the total recurring revenue of last year. Then, they divide the value with the total recurring revenue (managed services) of the previous year.
Conclusion
All things considered, knowing your KPIs for managed services is essential to track your company's performance continuously. This is useful for monitoring the profit areas, understanding what services need a rework, and maintaining a steady growth rate of the businesses.
To make the correct measurement, carefully gather all data regarding the relevant KPIs and accurately gain insights into your business after careful analysis.