The customer is a leading paints company driven by a strong innovative and client-focused spirit. The customer manufactures a broad range of paints used for industrial and decorative purposes. The customer had an Azure infrastructure wherein they were working on an unmanaged disk.
The Challenge
The customer was working on the unmanaged disk in their Azure infrastructure, where they faced issues related to limited input/output operations per second (IOPS) and scaling. The customer was also facing the challenge of incurring cost on their obsolete and unused resources.
The Solution
The customer partnered with Blazeclan to address the challenges they were facing with limited IOPS and Scaling with their existing Azure infrastructure. Their infrastructure was running on an unmanaged disk. Blazeclan helped them migrate from unmanaged to managed disk. With the solution, the customer was relieved of the storage account limits, achieved a better resilience, and eliminated the single point of failure.
With this migration, the customer realized a robust security and compliance framework for its business-critical applications. The customer was also advised to adopt Azure best practices to strengthen their security even further and continuously thwart attacks.
To reduce cost, Blazeclan helped the customer with Azure Advisory and cost optimization services to find unused and obsolete resources. With the help of Network Watcher, the customer gained actionable insights into their network performance and health.
Benefits Achieved by the Customer
High Availability: Blazeclan's migration solution helped the customer in achieving high availability. Also, it facilitated them in maintaining high application availability with low redundancy.
Derestricted Storage Account: Migrating from unmanaged disk to managed disk for their Azure infrastructure enabled the customer to eliminate throttling of their storage account's IOPS limits.
High Scalability: The migration helped the customer bring high scalability to their application platform. Moving their system to Azure managed disk also enabled them to realize auto-scaling with minimum downtime.
Cost Optimization: The solution opened up the possibility of optimizing the infrastructure cost for the customer. The benefit of cost optimization enabled the customer to have better control of their overall IT budget.
Role-based Access Control: The solution also delivered the customer with role-based access control (RBAC), which enabled them to fine-tune and easily manage their infrastructure. Automating access management and integrating best practices for assigning rights and access to resources improved overall security and compliance.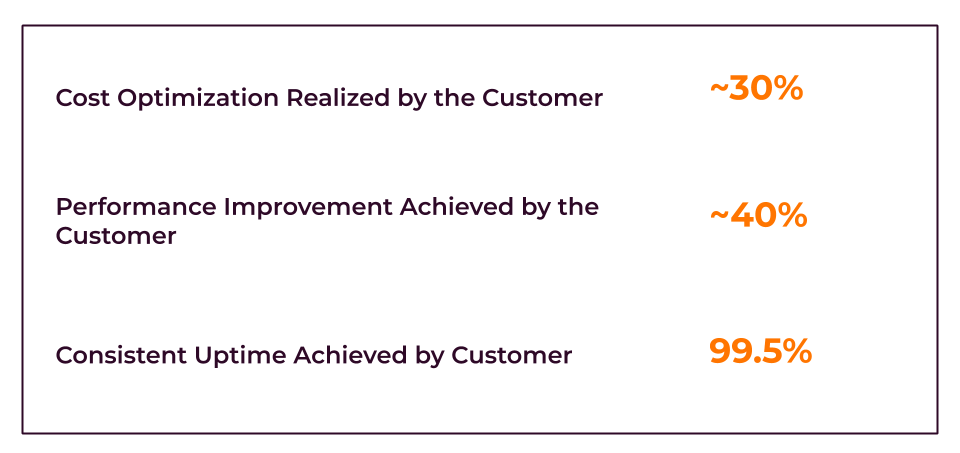 Tech Stack
| | | |
| --- | --- | --- |
| Azure Storage Account | Azure VM | Azure RBAC |
| Azure Security | | |