The customer is a leading financial services company with numerous channel partners and bank partners. The customer approached Blazeclan for helping them move their infrastructure to the cloud to leverage its flexibility and cost benefits.
The Need for Cloud Migration and Associated Challenges
The customer was looking to extend its infrastructure, which comprises over 100 servers, to the cloud. Blazeclan's cloud experts devised a plan for seamless deployment of the customer's infrastructure to Azure cloud environment. The primary challenge here was designing and deploying the complex IT environment of the customer on the Azure cloud. It was imperative that a highly available infrastructure is maintained and automated to scale as per changing needs of the customer.
Blazeclan's Azure Cloud Migration Solution for the customer's Infrastructure
Blazeclan's cloud experts analyzed the customer's IT infrastructure and the complexities associated with it. A robust Azure cloud environment was developed for their IT environment and the best-in-class network architecture was designed.
The Solution Approach
The site-to-site connectivity of various infrastructure components on the Azure cloud was implemented.
All essential resources of the infrastructure were deployed on Azure cloud by following the best practices.
All applications in the infrastructure were moved from the on-premise data centre (DC) to the Azure cloud environment.
The cloud environment is secured and deployed with a high availability plan for all critical applications and services.
The customer is provided with 24×7 monitoring and management of their new Azure cloud-hosted infrastructure, with more than 100 virtual servers to effectively meet their needs.
The storage transitions are continuously monitored and moved as per the service consumption.
The customer was also offered with continuous application support to prevent any issues or interferences with their operations.
The on-premise deployment of the customer's infrastructure was decommissioned.
Benefits Gained by the Customer
High Scalability: The Azure cloud provided the customer with the ability to scale their infrastructure according to business demand alterations. Cloud deployment provided them with a new auto-scaling feature with minimum or zero downtime.
Automation: Automated security operations and their integration into the deployment pipeline enabled the customer's application teams to scale compute resources as required, without compromising the overall infrastructure security. This further helped the customer in reducing time & resources required in their processes, as compared to manual efforts.
Improved Performance: The customer experience was significantly enhanced with the cloud deployment, owing to the scalable and agile nature of the environment compared to their legacy on-premise deployment.
Cost Optimization: Azure cloud opened up the possibility of optimizing cost for the customer along with building a future-ready and fault-tolerant architecture. The flexible model suits the customer's requirements well. The benefit of cost optimization enabled the customer in better use of their resources by focusing them on imperative business objectives.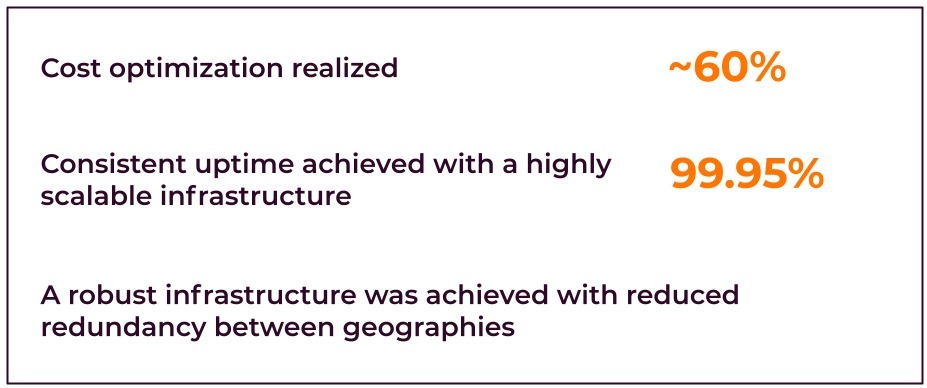 Tech Stack
Azure VMs
Azure Load Balancer
Azure CDN
Azure Application Gateway
Azure Monitor
Azure Migrate
Azure VNet Peering