About Customer

​

The customer is part of the legacy group, which has lasted over the years through products across consumer goods, appliances, real estate, agriculture, and several other business areas. Being a leading finance firm in India, they aim to lend home loans that fall in line with different requirements of the nation's demographic while being deeply rooted in values of making their end users realize achieving their dream home.​
The Need for Data Analytics Platform

​

The existing data ecosystem of the customer was deployed on an OLTP platform. For OLAP workloads, PostgreSQL was being used as the database. However, the data that was generated was getting stored in different tables, leaving the customer to put extensive effort in pulling the reports required for taking necessary actions. Moreover, there was an absence of data warehouse in the customer's existing data ecosystem.​

To eliminate this challenge, the customer was looking to establish a data analytics platform that would help them improve data engineering, simplify data processing, facilitate extracting valuable insights, and automate reporting activities.​
Blazeclan's

Data Modernization

Solution

​

Snowflake was the customer's preferred platform to resolve their key challenges of data quality, duplication, and standardization. Blazeclan designed a solution involving AWS services and Snowflake platform to meet the said requirements of the customer. The idea was to extract the data from their existing OLTP platform, pull it into an OLAP platform, and then perform data modelling on top of it. Blazeclan built the entire cloud warehouse from scratch using its expertise in the finance domain, thereby standardizing the data semantics.​

The approach followed for achieving the customer's objective was as follows – ​
The business data being captured daily and stored on OLTP system was

pulled into the Amazon S3.

​

Amazon S3 comprised of the raw layer and the cleansed layer of the

data. If any ML requirement arises in the future, then the customer

would be able to implement it using AWS services cost-effectively.

Once the data was cleansed, it was pushed to the published layer in

Snowflake.

​

Finally, data modelling has been performed on the published layer.

​
The solution deployed provided the customer with a single source of truth for their data. In addition, it enabled creation of tables and clubbing of the data into a single platform, which further facilitated the customer in integrating reporting tools based on their requirement. With the combined AWS and Snowflake solution, the customer was able to​
Perform gap analysis on their existing data

​

Build ETL pipelines on AWS and Snowflake, which were fully configurable. In

the case where new entities are required to be added, only configuration-

level changes will be done and there won't be any need for code-level

changes.

​

Define rules for different data processing engines, including data ingestion,

cleansing, transformation, and loading into Snowflake

​
Benefits Achieved by the Customer

​
Single source of truth was achieved for structured, semi-structured, and

unstructured data. The integration with various data sources has been

seamless and nimble, which enabled a high availability of the data in a

centralized, consolidated, and catalogued format.

​

The data in the new analytics platform is highly secured and the users can

only access it through proper authentication.

​

Self-service tools enabled the customer to democratize their business data

and power their data analytics, advanced analytics, and machine learning use

cases.

​

The modernized data platform was easy to integrate, automate, and maintain

compared to the customer's old data system.

​

Following business operation reports and related key performance indicators

will get fulfilled as part of dashboarding requirements

​

Financial Reporting

– This includes reporting of future delinquency rate,

interest spread, profit before tax (PBT), value insurance, premium,

insurance penetration, etc.

​

Loan & Collections Reporting

– This includes reporting of the total

number of loans, ROI, EMIs paid, amount paid, total EMI due, etc.

​

Sales Reporting

– This includes reporting to area manager, sales manager,

developer sales head, sales trainee, etc

​​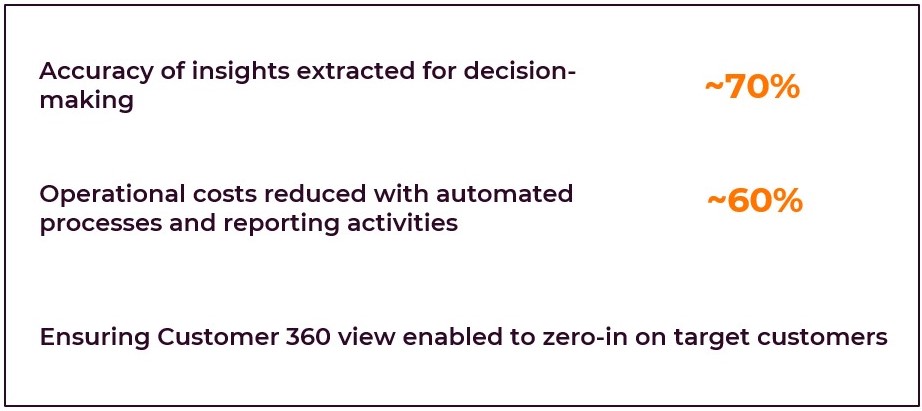 Tech Stack
Amazon S3

AWS DMS

AWS Glue

AWS Secrets Manager

Amazon RDS

AWS IAM

Amazon SES

Amazon CloudWatch

Snowflake

Tableau