Telekom Malaysia Berhad (TM) is nation's leading integrated telecommunications provider that is on a continuous journey of enhancing and elevating the nation's telecommunications technology and services toward delivering connectivity to all Malaysians. They approached Blazeclan for help in building a reporting solution that performs sentiment analysis on Twitter and community forum data in near real-time.
The Challenge
TM was looking for a sentiment analysis solution to understand the communities' point of view towards identified topics, in turn facilitating decision making. Key requirements of TM included
Sentiment Analysis:: To analyze a large amount of Twitter feed and community forum for understanding the sentiments around them. The company wanted to perform a sentiment analysis on multilingual data, such as Malay and English.
Topic modeling: To analyze a large amount of data for identifying topics that the tweets are composed of, which in turn will help TM to understand what is trending among communities.
The Solution
Blazeclan proposed a product-centric approach for building an effective sentiment analysis model.
As the data was multilingual, there were challenges in leveraging the natural language processing.
The solution involved the use of AWS Translate for translating data in the regional languages to English.
The translated data was then used for performing sentiment analysis with the help of AWS Comprehend.
Both AWS Comprehend and Sagemaker were proposed for Topic Modeling, where Sagemaker provides users with greater control over fine tuning the model.

The Approach
AWS infrastructure implementation.
Data ingestion and data preparation.
NLP and ML model training.
Dashboard development
Iteration, evaluation, and streamlining.
Architecture Diagram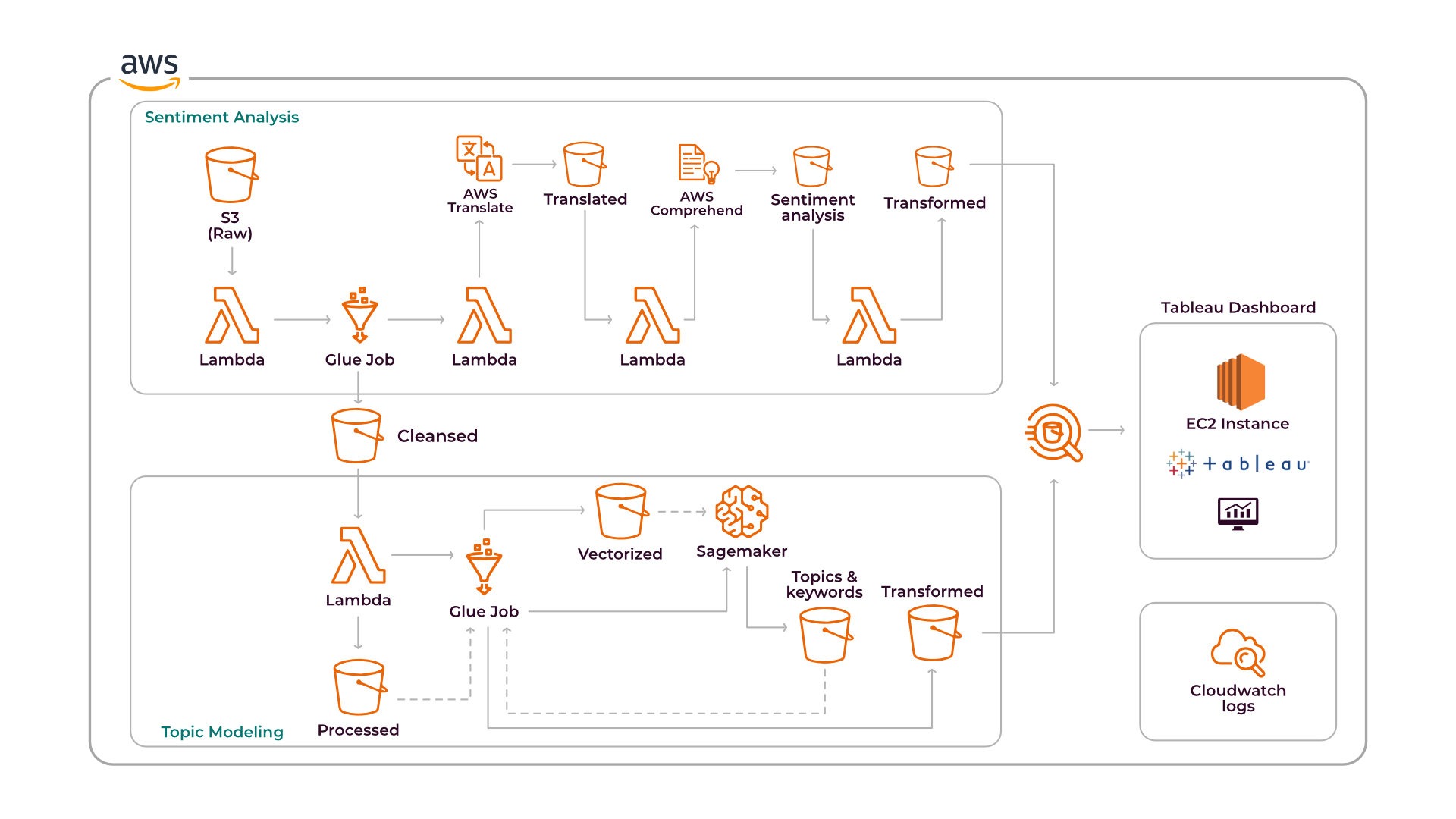 Benefits Achieved by TM
Eliminated the need for incremental learning: Using unsupervised machine learning algorithms like LDA and NTM, the topic detection models don't have to be trained periodically on new data. This keeps the process up to date and capture the right topics based on verbiage/comments and also saves time and effort that goes into incremental learning.
Reuse of Trained Models: Amazon Comprehend service runs on pre-trained datasets that AWS has already used of to build Sentiment Detection models. This avoids TM from building models from scratch and saves time by leveraging the APIs.
Actionable Insights: The cloud-hosted sentiment analysis model enabled TM to get timely actionable insights for better decision-making and strategic planning.
"Blazeclan has been a great partner to us in exploring sentiment analysis & topic modeling via AWS Comprehend & Sagemaker. Their openness to ideas for improvements & commitment towards timely project completion are the exceptional qualities that has helped us in making the project a success."
Iffah Illani Ismail, Head of Business Intelligence & Analytics, TM
Tech Stack
| | | |
| --- | --- | --- |
| Amazon S3 | AWS Glue | AWS Lambda |
| AWS Sagemaker | AWS EC2 | Amazon CloudWatch |
| AWS Athena | Tableau | |