Organizations are taking advantage of structured as well as unstructured data for making better decisions toward operational efficiency and business growth. Data modernization is of significance when it comes to handling voluminous data cost-effectively. While it enables organizations to realize cost-effectiveness, seamless integration, facilitated data accessibility, and business agility, data modernization is touted to be a significant digital transformation enabler.
Blazeclan has been helping organizations accelerate their data modernization journey with its key accelerator, IntelliSpout. Key USPs of IntelliSpout are listed below.
Better governance and data traceability.

Shorter project lifecycles.

Available in multiple flavors for varied modernization requirements.

Reusable components coupled with a suitable modernization strategy.

Process-driven and tool-driven approach.

Built for the organizations of the digital era.

Layered data architecture.
Accelerating the Data Modernization Journey
Organizations need a highly scalable and modularized framework for modernizing their data on the cloud. They are constantly searching for options that help them build capabilities in setting up a robust data warehouse that facilitates analytics and profiling. Error handling and reprocessing are imperative along with structured modernization approaches, including phased, big bang, and bulk/incremental. IntelliSpout helps realize all this effortlessly, with its provisions of pre-modernization dry runs and post-incremental runs.
IntelliSpout is an unmatched data modernization accelerator that guides and enables organizations to transition from their traditional data warehouses to the cloud. This helps them achieve high scalability, modularity, and customizability with modernization in mind. Organizations expect to adopt a more modern, stable data warehousing solution, which allows setting up data pipelines and attaining a capable processing platform.
IntelliSpout – Automated, Controlled, and Auditable Data Modernization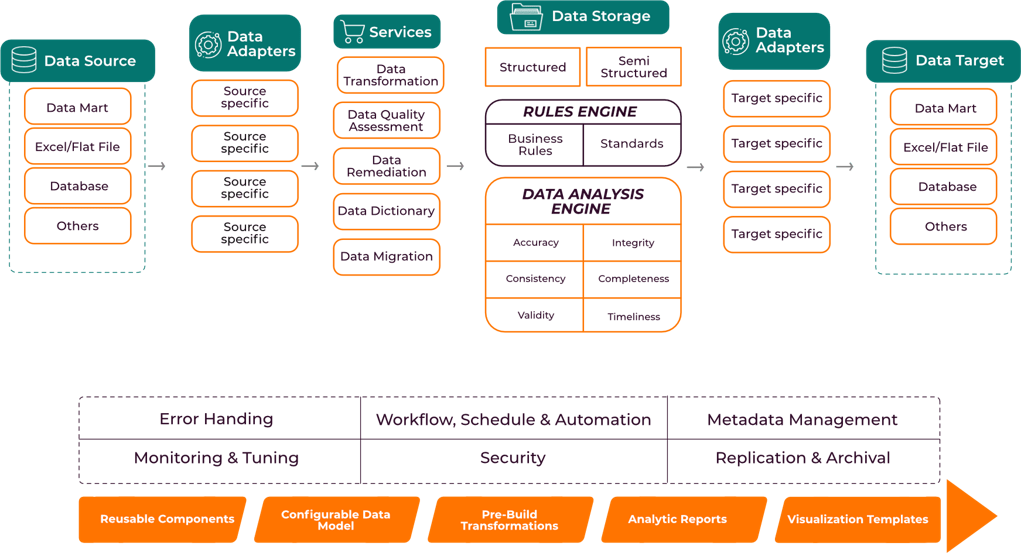 With IntelliSpout, organizations can address multiple sources and target options for the cloud technology stack that suits their existing data modelling platform. It helps them build capabilities to leverage a standardized, structured code base and data storage coupled with a uniplanar data lake solution. Organizations can not only accelerate their data modernization efforts, but also achieve an auditable, controlled, and automated modernization process.
Major Benefits of Accelerating Data Modernization with IntelliSpout
Fast Delivery

: The cloud-based data modernization approach is the most feasible solution for organizations, as it delivers reliability and security through easy-to-get-started-with methods.

Cost Optimization

: The shift from CAPEX to OPEX-based system helps organizations realize a significant reduction in their IT expenditure, compared to the traditional warehousing solution.

Reusable Framework

: Minimal coding efforts are required for setting up new data pipelines. This is primarily because of the edge offered by pre-built functions and traits of the framework. Moreover, this approach provides benefits, such as scalability, customization, and above all, time reduction.

Capability Appreciation

: Organizations gain the ability to establish a robust platform that provides the scope for ad hoc business queries and adding new source pipelines in a minimal time frame.
To Conclude
The cloud and data modernization share a covalent bond that ultimately facilitates the digital transformation journey for organizations. New establishments, if they need to be flexible, need rapid data accessibility and seamless data integrations. Organizations that still hinge on legacy systems must need to act right and fast for modernizing their data and remaining on par with change. IntelliSpout can help organizations achieve such modernizations quickly and at scale.