CloudFront at a Glimse
For all whose who are still a bit new to AWS Cloud's Content Delivery Network, CloudFront with more than 51 Edge locations is rocking the world of Content Delivery. Backed up with Edge Locations in Mumbai & Chennai, India has really seen alot of traction towards AWS CloudFront with media house biggies like Aaj Tak, Headlines Today and others pouring in. This traction has also been fueled with the entire array of hand held devices like smart phones, Tablets, I phones gaining popularity in India. We recently held a Joint Webinar with AWS Cloud on Amazon CloudFront with our growing Indian Audience. During the webinar we saw a barrage of questions flying in the Q & A session and thought, why not have some of these questions shared with our readers. So here they are, see how many of your Questions got Answered !!
Time To Fire in Those Questions on AWS CloudFront
1) Can we Improve the time latency if we use a CDN in front of S3? What will be the degree of improvement in time latency and end-user experience in terms of time in milliseconds?
Ans1) Yes time latency can be improved by using CDN in front of S3. It will depend on the location/geographical region the content is accessed from. There are a number of tools available to test this improvement. For example you can use https://www.webpagetest.org/ to compare two urls interms of time latency from different geographical locations.
2) What should be a recommended way if we put our content Images/CSS/JS on CloudFront? And If some frequent changes come up related to images/css/js what would be your suggestion on the same?
Ans2)You can serve those types of content via CloudFront, you can set your TTL values along with versioning so that CloudFront can go back regularly to the origin source to fetch those changes.
3) Can I Use CloudFront for dynamic content?
Ans3) Yes, CloudFront can be used for dynamic content. You can include query string parameters to help customize your web pages for each viewer. You can also configure multiple cache behaviors for your download distributions based on URL patterns on your website.
4) How can one do access protection for adobe flash content?
Ans4) You can control end-user access to your private content. You can configure CloudFront to require that end users access your objects using special signed URLs. You then create the signed URLs (either manually or programmatically) and distribute them to your users.
5) We have a website hosted on EC2 but use a GoDaddy DNS, is it possible to host the images and CSS files using CloudFront?
Ans5) Yes, you can continue using the DNS server from any provider and use CloudFront in front of your EC2 instance treating EC2 as the origin for your CloudFront distribution.
6) What additional infrastructure do I need to setup on AWS to use CDN with web applications having video and audio content. I am already using EC2 instances for hosting web application and RDS for databases. Do I need to setup addition EC2 instances or S3?
Ans6) You do not need to setup any addition EC2 instance for CDN. You can directly use your existing EC2 instance as origin for setting up the CloudFront CDN .You can also have your site or objects stored on EC2 or S3 and then have CDN right in front of it. If you want to stream videos in a specific container format, then you might want to run a media server on EC2, streaming that via CDN after that. So summary is that it will depend on the architecture you want to have.
7) Can a Single web server be used to implement CDN at amazon?
Ans7) Yup, we do not mandate use of any minimums at the origin in terms of no. of EC2 instances. So yes you could use one small instance if you wanted to and use CloudFront in front of it to distribute the content worldwide.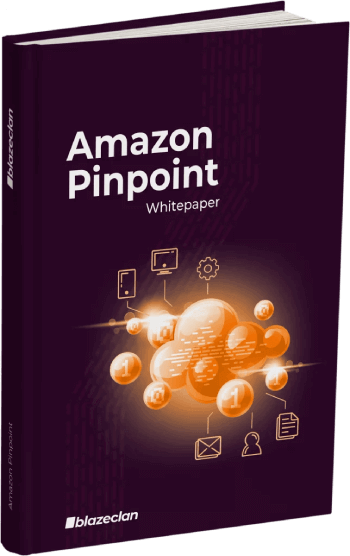 FREE RESOURCE
Amazon Pinpoint Whitepaper
Amazon Pinpoint helps track customer behavior and engagement to increase satisfaction. Get in-depth knowledge of Amazon Pinpoint features, use case drivers, and how to get started with Amazon Pinpoint.
8) How can we use an Edge location while setting up EC2 instances for live streaming ?
Ans8) You set up a Download distribution for Live Streaming with the EC2 instance running a Media server like Wowza or Adobe. The edge locations then buffer chunks of the stream which is seamlessly relayed to the end users as they get to see it. This process continues throughout the event.
9) We are a company creating content and distributing it as "download file" from our website for our end users. Can we use CloudFront in this case ?
Ans9) Yes you can use CloudFront download distribution, where you can have content downloads going through edge loactions for minimal download latency.
10) Is Digital Rights Management (DRM) in built as part of cloudfront ?
Ans10) No, DRM is not in built by default. You can use multiple DRM solutions in combination with CloudFront for content protection.
Don't Worry, You can Still Watch the Webinar Recording below:
A Call Out to Media Houses:
If you're into Content Delivery, then the hassles of juggling to and fro between multiple devices, platforms, streaming protocols is definitely an Issue! You can look into Amazon CloudFront to solve some of your problems, with the new Microsoft Smooth Streaming update for Windows devices. You can also look into the Wowza Streaming Engine to support multiple devices & platforms under one roof. But where do we come in all this? Think of your resources requiring to migrate on AWS Cloud on one hand with all these Tools fitting in on the other. We help you re architect your Infrastructure to implement Your Solution on AWS Cloud. Check out this demo using Wowza Media Server for rendering content to different device platforms. You can even Visit this Link which will automatically interpret the device you're viewing from & Play the Sample Video.
New Interesting Finds from Our Blogs :
1. Introduction to Video Transcoding with Amazon Elastic Transcoder
2. 5 Reasons Why to Invest in CDN
3. Amazon S3 & CloudFront Analytics for optimized End User Experince