Wrapping up from the AWS Singapore Summit, the team was heading towards another amazing event – The AWS Summit Mumbai 2018. Well, the Singapore summit was a huge success as we interacted with dozens of enterprises and startups who were eager to be a part of BlazeClan's new thinking. In addition, BlazeClan received its AWS Migration Competency between both these summits, we have another feather in the cap! The AWS Global Summits are the perfect platform for AWS to showcase their latest offering, product line-up, customer experiences, partners' innovation, and for AWS Engineers to have technical sessions with AWS fans and to be customers.
The Mumbai summit saw more than 5000+ attendees along with 50 breakout sessions which were led by AWS Solution Architects, Partners and Customers. In addition, AWS had setup Innovation Pavilion, Built on AWS – ISV Village, AWS Certification and their own booth to keep the audience engaged in technical banter. As Gold Sponsors of the AWS Summit Mumbai 2018, we had our own booth (G2) to exhibit our offerings.
The opening note imparted by Bikram Singh Bedi, Director, Amazon Internet Services Pvt. Ltd, talked extensively about the Indian cloud landscape and how 50% of all new APAC based APN partners are from India itself. The keynote speech conducted by Mr Oliver Klein (Head, Emerging Technologies, APAC Region, AWS) had one of the major announcements of the day which included the launch of 4 new regions globally. The 4 new regions included Bahrain, Hong Kong SAR, Sweden and a second AWS GovCloud Region in the United States, confirming to a total of 12 Availability Zones globally.
Did anyone say Serverless?
The session – 'Accelerate Digital Transformation with Microservices' kickstarted with Deepak Kagliwal, Director – Sales and Marketing, BlazeClan, talking about BlazeClan's achievements and our focus in cloud for 2018.
The session then talked about the architecture evolution which started from virtualization to cloud computing to further containerization and now leading with serverless. In the serverless section, Deepak imparted the benefits of AWS Lambda and Serverless compute, which are:
AWS Lambda does not require any server provisioning or management since there are no servers. It does not even require software or runtime to install, administer or maintain.
Autoscaling through throughput memory curbs downtime in any given scenario.
Serverless applications have built-in availability and are fault tolerant. These applications perform flawlessly and do not require supervision from an architect as the services running the application provide them by default.
Idle times are never billed to the customer.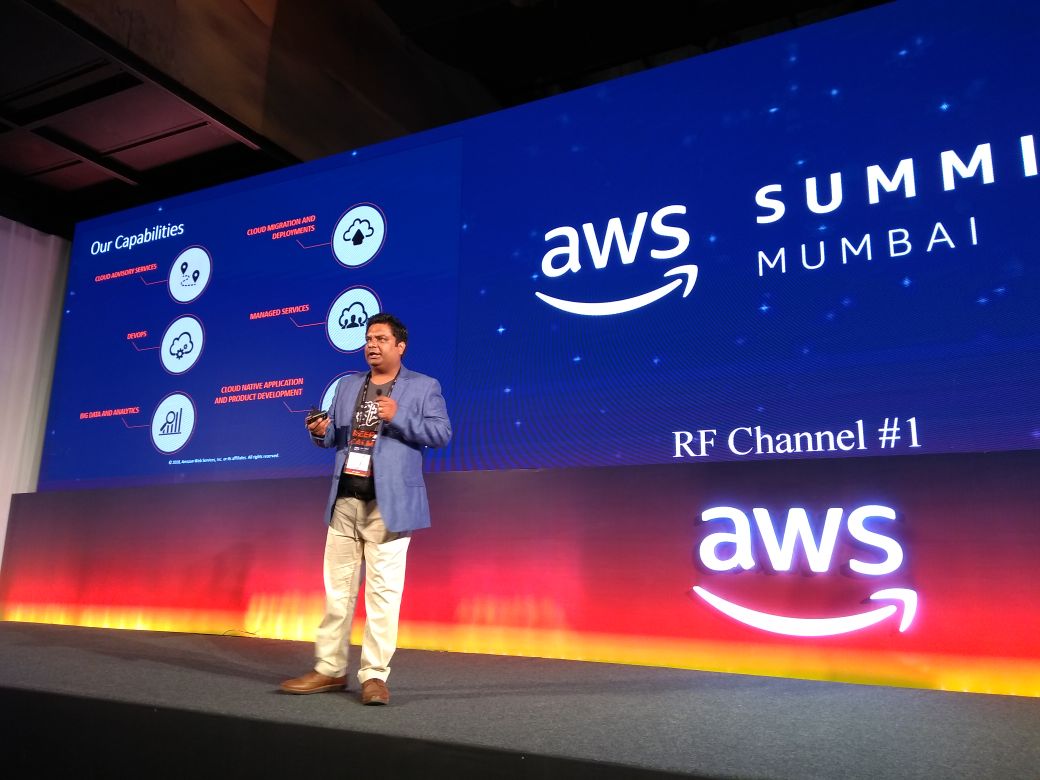 Deepak conducting the Accelerate Digital Transformation with Microservices session at the AWS Summit Mumbai.
Aditya Birla Finance Limited and Their Journey in Cloud
Moving on to the presentation, we had Rohit Kilam, CTO, Aditya Birla Finance Limited showcasing some amazing insights on building cloud-native digital products. ABFL Direct provides hassle-free business loans to SMEs, which are usually sanctioned in 10minutes. MyUniverse is a single platform developed by BlazeClan which helps users to plan and manage personal finance requirements.
To make it an insightful and an engaging session Deepak had few questions for Rohit. As a part of the session, Rohit gave a walkthrough on how BlazeClan has made it easier to build and manage a platform which enables the end users with the following features:
No bank visit
Zero collateral
Easy and online sanction
No agents so no commission
Single platform
Best of breed integrations – E.g. CIBIL, PAN, Experian, Credit Vidya, Aadhar, etc.
Before closing the insightful session, Deepak emphasised the fact that enterprises lately are shifting towards modularity, containers and microservices which are altogether becoming mainstream. This fact holds true since microservices and containers work together to ease or simplify each other's missteps to improve cloud, operations and development.
In all, it's a complete suite of financial solutions at your fingertips. Here are few captures of the session with Deepak and Rohit.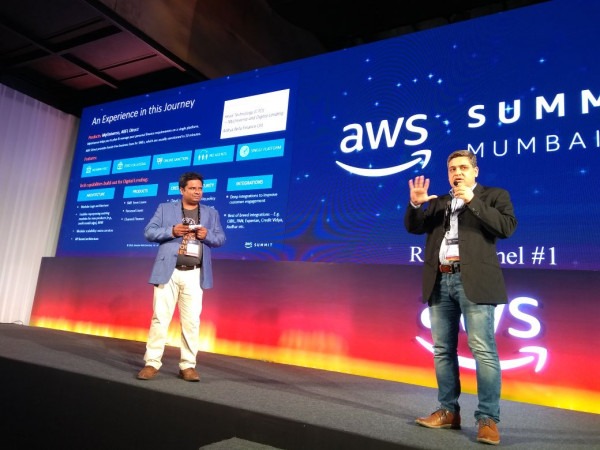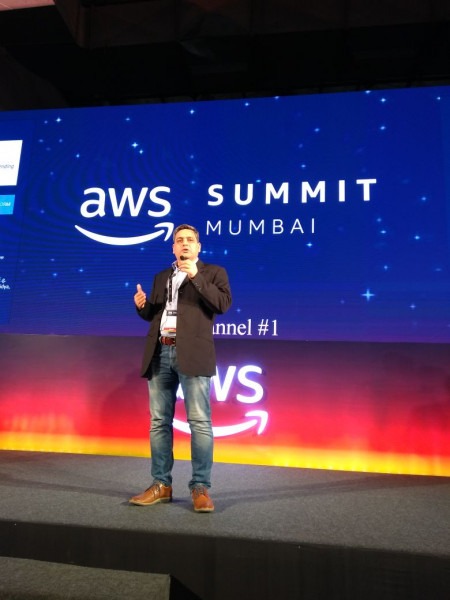 Rohit sharing his experience with BlazeClan – AWS Summit Mumbai
Following are the Highlights of the AWS Summit Mumbai 2018:
Optimize CPUs for Amazon EC2 – AWS announced the launch of Optimize CPUs features exclusively for Amazon EC2 instances on 8th May, 2018. The summit attendees got to witness how this feature is improvised to extract superior control of their EC2 instances. Users can now specify a custom number of vCPUs when launching instances that would help to save on vCPU licensing costs. In addition, users will be in a position to disable Intel Hyper-Threading Technology which is used for workloads that perform exceptionally well with single-threaded CPUs, along with certain high-performing computing-based applications.
AWS Fargate for EKS – Announcement of the upcoming launch of AWS Fargate for EKS which will enable users to directly begin working with containers without the need to configure infrastructure.
AWS S3 Select and Glacier Select – The announcement of AWS S3 Select and Glacier Select meant for retrieving subsets of objects feature enabling users to use SQL expressions to extract the only bytes they require from objects.
AWS DynamoDB Backup and Restore service – AWS introduced its recently launched Amazon DynamoDB Backup and Restore service. Expect a fully automated, restore, on-demand backup and point-in-time recovery service used for archiving and data protection for DyanmoDB. It ensures all backups are automatically catalogued, encrypted and easily discoverable and retained until and unless explicitly deleted.
AWS Nitro Hypervisor – AWS recently launched the Nitro Hypervisor feature for C5 instances. The summit attendees got an introduction to this feature which is built on the core Linux Kernel-based Virtual machine technology.
Amazon RDS – AWS increased the database storage size/limit for SQL server from 4TB to 16TB using Amazon RDS Service.
AWS in Gartner Magic Quadrant – Lastly, AWS announced the fact that it has more than 125 services to offer and has been ranked as the market leader for the past 7 years in the Gartner's Magic Quadrant for providing Cloud Infrastructure as a Service space.
Engagement at the booth
The booth was flooded with visitors from different domains and backgrounds. We had a set of activities for every visitor to our booth, along with few giveaways. In addition, we ran a lucky draw program and awarded Baabloo Taarwale as the new owner of the Amazon Echo Dot which was selected at the end of the summit as a giveaway.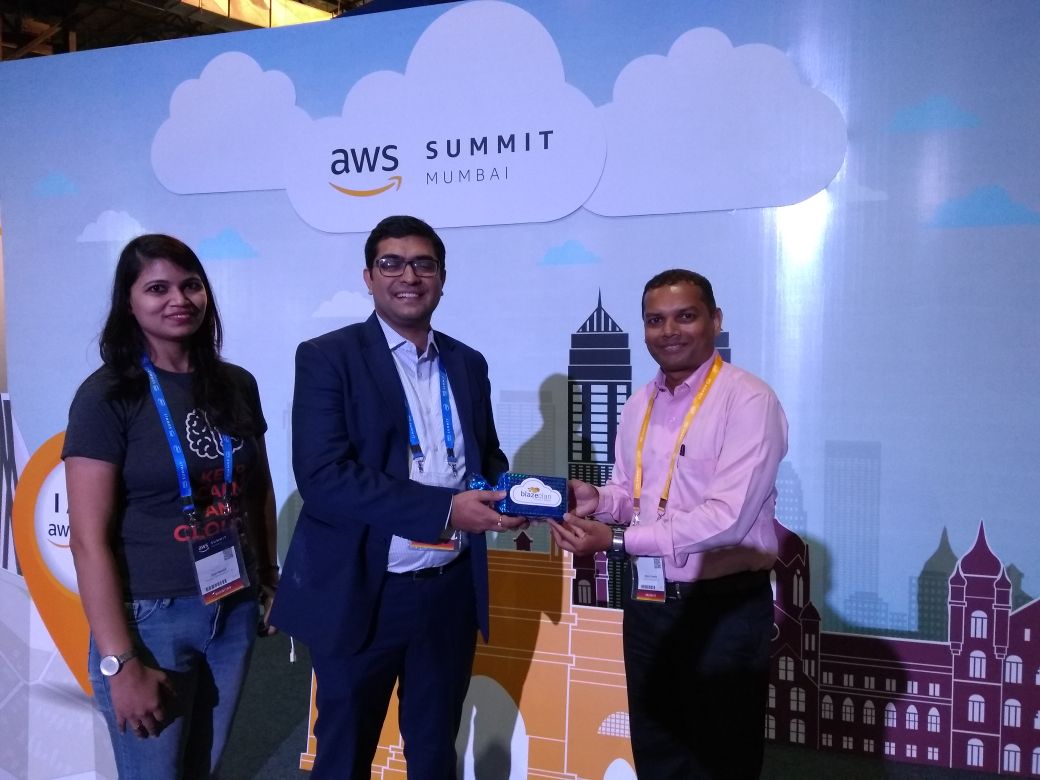 Varoon Rajani, CEO – BlazeClan, awarding Baabloo Taarwale the Amazon Echo Dot as a giveaway.
Post Deepak's session, the summit attendees had multiple queries on serverless architecture, of to which, Deepak and the technical team were happy to answer them. Moreover, the audience was interested in knowing BlazeClan's cloud landscape for 2018. The main highlight of the booth was that we were greeted by big dignitaries from the cloud space. Here is a quick run through the engagement at the booth.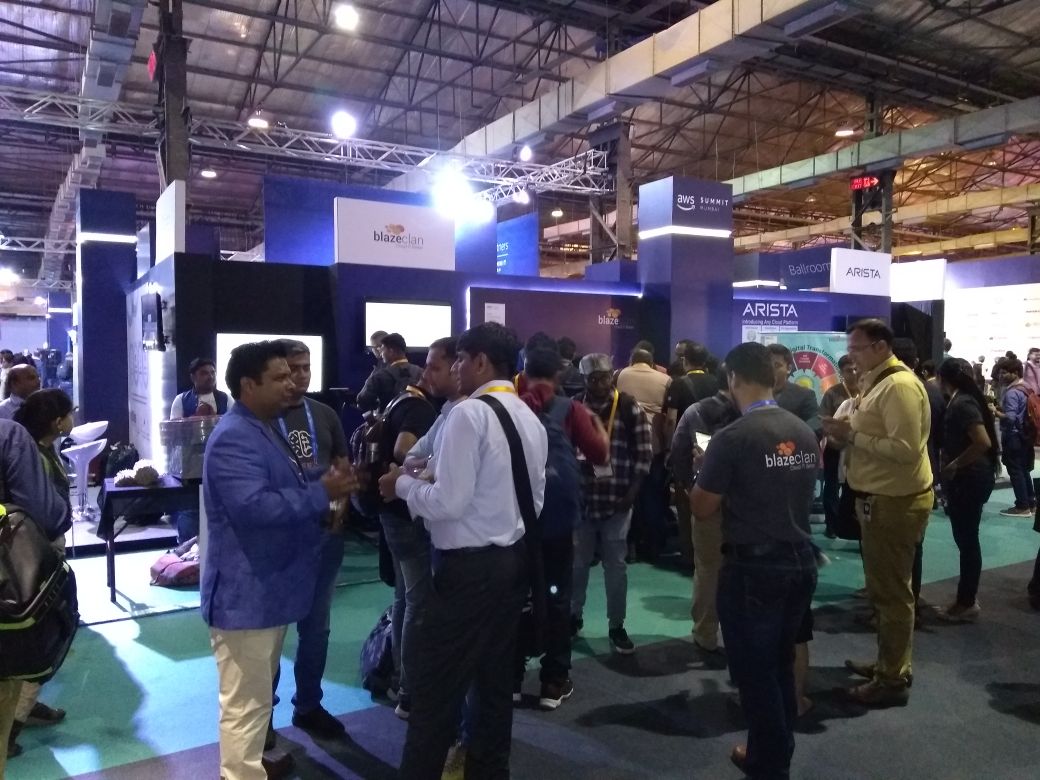 Deepak discussing new cloud initiatives with the booth attendees.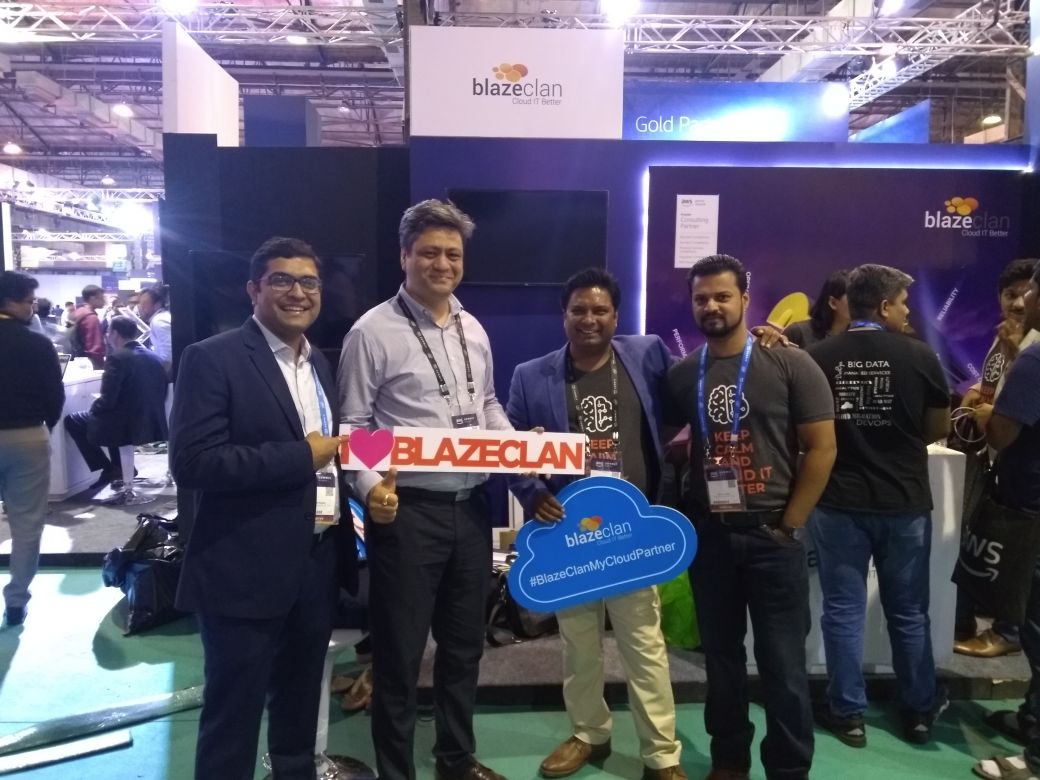 With Gaurav Zutshi, Chief Digital Officer – Aditya Birla Finance Ltd.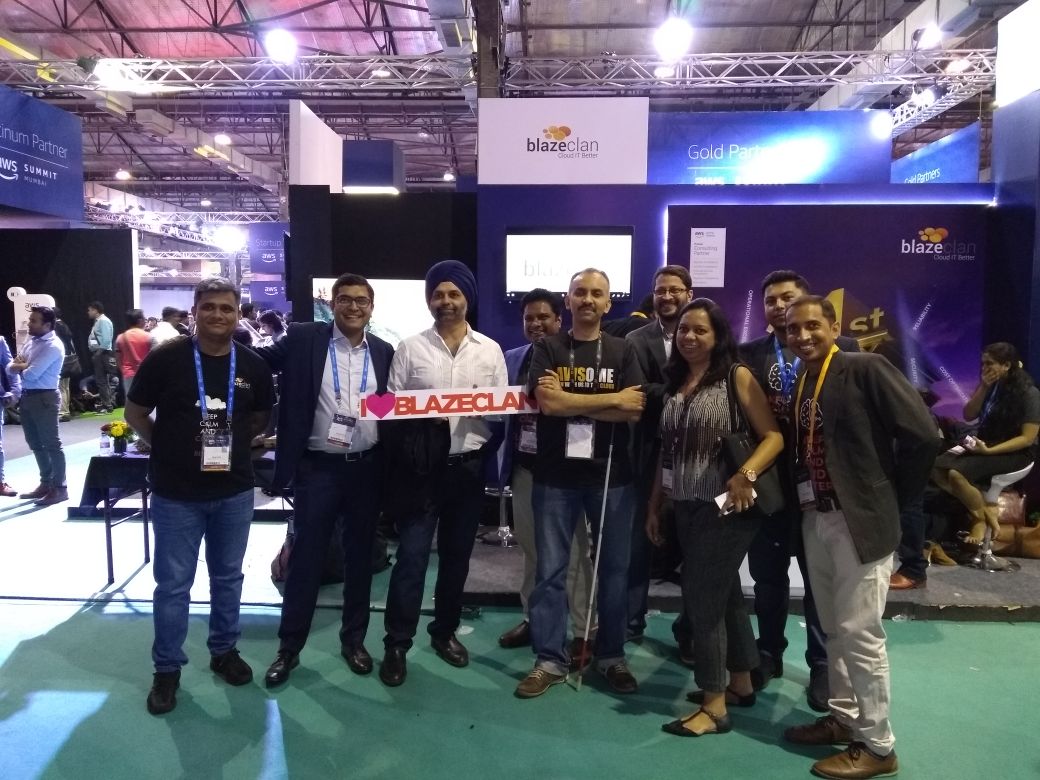 Team with Bikram Singh Bedi, Managing Director AWS India & Hari Raghvan, Partner Development Manager, AWS for BlazeClan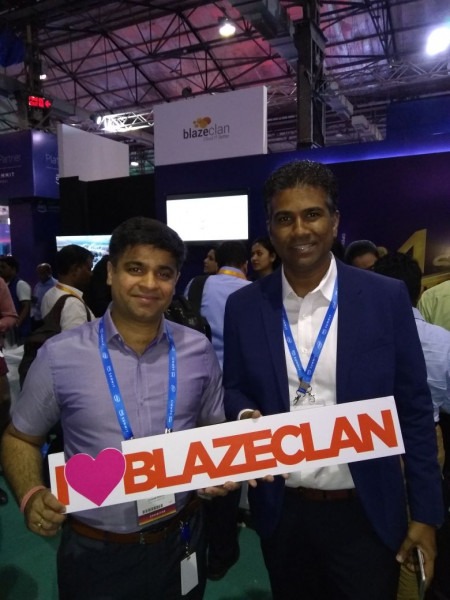 Deepak Mathur and Nitin Kotian from Palo Alto Networks at the BlazeClan booth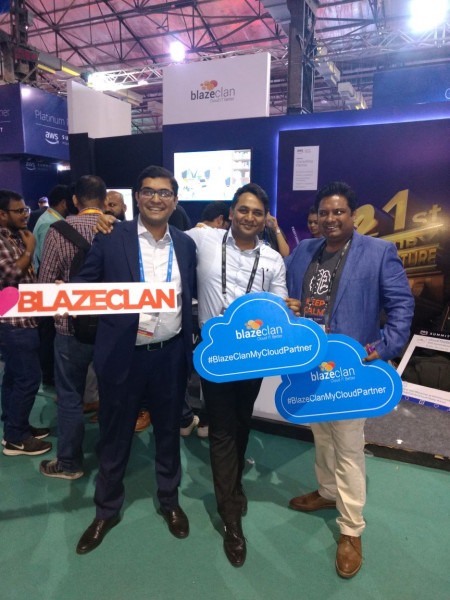 Varoon and Deepak with Chandra Sankholkar, Head of AWS, India – West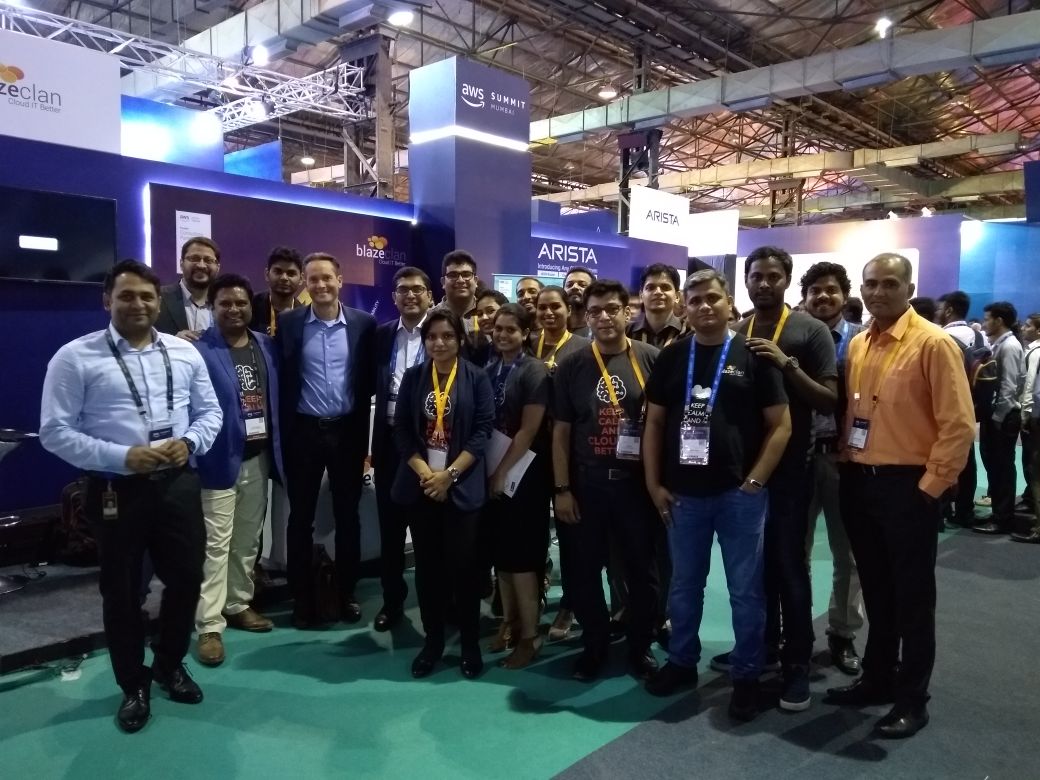 Clan with the Managing Director of AWS, APAC – Ed Lenta & Head of AWS, India – West – Chandra Sankholkar
What Next?
The AWS Summit Mumbai 2018 was indeed a grand success! With the exchange of new ideas and possibilities in cloud, we look forward to next year with the same enthusiasm and forward thinking. Feel free to contact us for your cloud needs, as an AWS premier partner we can surely assist you shaping your cloud journey by delivering bespoke and innovative cloud solutions infused with AWS best practices and cutting-edge AWS capabilities.