Talking to 10 different people might get you 12 different definitions of Cloud Computing and it is difficult to reject any of those versions. For some Cloud Computing is Utility Computing, for some it is On Demand Computing, for some it is everything related to IT which ends with "
as-a-Service
" and for some it's their Gmail.
The purpose of the blog is to explain the term Cloud Computing to non-IT folks.
So how do we define Cloud Computing?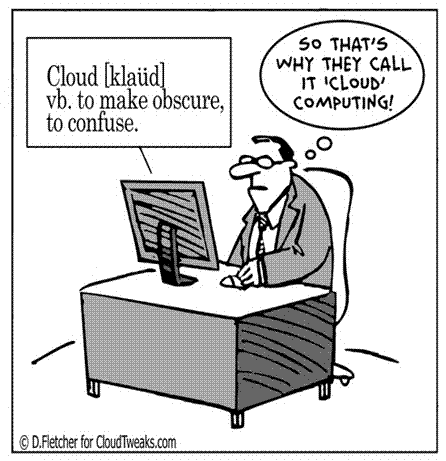 Let's take a scenario of two mid-size manufacturing companies. These companies are in competing spaces and have similar offerings and are of almost the same size. Both these companies do not have any IT applications implemented except for Tally which is installed on their respective head accountant's computer and the company email.
Both these companies want to implement a Customer Relationship Management (CRM) software application to maintain sales leads and give real time access of this data to their sales teams.
Here are the approaches taken by both the companies.
Company 1:
The company decides to implement the software on their own premise. First, the company's lone IT resource who manages their email doesn't have a clue about the CRM application and the technology it uses. So the company hires a team of third party consultants to help them with the implementation. The consultant team recommends purchase of hardware (a set of 2 servers, one for the application and one for the database) required for the CRM application. On top of the hardware, the company has to purchase licenses for Operating System (OS), the application server software, the database software and the CRM application itself. The company has to dedicate a small air-conditioned, closed space on its premise to house the new servers and setup electricity back up to ensure that the server runs even in case of power failures.
The consultant team takes 4 months to do all the installation; master data setup and make the application available to the users. Few weeks after the application is setup, the users run into some problems, to fix these problems the company had to contact the consultant team for help. Eventually the company hired a consultant full time to support the application software and another one to support the application hardware.
Company 2:
The company decides to use Salesforce.com, instead of an on premise CRM solution. The sales head of the company subscribed to salesforce.com for 10 users logins for the sales team, online. She has to pay for each user on a monthly basis, if a team member leaves the organization she stops paying for the user login of that team member and if a new member joins in she just adds a new user account for the person. Once the user logins were created, the sales head created the master data setup and the sales team started to use the application immediately over the internet. For any issues faced by the sales team, the sales head visits multiple salesforce.com support forums for a resolution for free, if she cannot find a resolution, she raises a service request and gets a resolution in less than 24 hours, she has to pay for additional service pack on a monthly basis but she doesn't have to hire a specialized consultant or even have an IT team.
Company 1 selected the traditional approach and Company 2 selected Cloud Computing. Now let's compare how each company fared on some of the parameters based on their approach:
As you could see from the comparison, Cloud Computing helps companies realizing the benefits of IT in a much faster way and with low costs, plus it is self-service and much of it could be done without involvement of the IT team.
Cloud computing in the traditional mainstream sense means, resources are dynamically provisioned on a self-service basis and consumed on a on a pay-per-use model over the Internet.
Any service on cloud can essentially be accessed using internet from any device of your choice which has an internet web browser installed; it could be your home PC, laptop and even mobile phone.
Some of the characteristics of Cloud Computing include:
On Demand Self-service. When using Cloud end consumers can have access to virtually unlimited resources instantly. End users can configure and deploy these resources on their own without any assistance from IT.
Elasticity and scalability. Elasticity means, resources allocated to the end consumer can increase or decrease based on the demand. Elasticity enables scalability, ensuring that peak demands are met by adding more resources without manual intervention.
Pay as you go, No Capex. Customers pay for resources only after they use it and they pay only for what they use. As consumers' access resources on Cloud as services rather than purchasing it, there are no initial investments involved.
Cloud Computing is not limited to using Software as service, companies and individuals can use Infrastructure and Application platforms as service as well.
Infrastructure as service means that users have full control over the hardware they use as service and they can implement any software on the hardware. This works just the same way as the in house infrastructure but is accessible over the internet.
Platform as service is used mainly by developers & enterprises who want to develop & deploy their applications faster but in a more controlled fashion without having to worry about the underlying infrastructure. Using Platform as a service reduces the control that a user can have on the underlying infrastructure.
As with any other technology trend, there are issues and concerns with Cloud Computing, some of them are Security, common standards, privacy, IT governance issues, compliance issues etc., but discussion on these issues will need a separate post.
To conclude, Cloud is not a single entity. It is a term, a concept which is adapted by multiple vendors and service providers to deliver IT infrastructure and software as services over the internet. Each vendor having their own set of offerings & standards. The market is still evolving and we expect a lot of new developments in terms of common standards, consolidation and some amazing applications.
So stay tuned in, as the future is cloudy.