Lately, we are witnessing a shift where in order to stay competitive in the ever-disrupting markets; it is important or rather necessary that enterprises move to digital. In fact, industries that are experiencing rapid changes eventually force enterprises to adapt or fail. While adapting, these enterprises need to undergo a revolutionary change rather than an evolution. Businesses can no longer sustain if they are not adapting, we have a classic example of how a renowned mobile manufacture – Nokia failed to cope up with the increasing demand for Android mobile phones. Instead, they stuck to selling Symbian while the generation had already paced ahead with Android technology.
To sum it up, companies having a goal of expansion must embrace to new marketing mediums, have digitally backed products to market, make use of cloud technologies to enable faster scaling and achieve maximum value proposition of their offerings, in all, have a digital transformation strategy.
Here are some statistics that claim organizations are making huge through digital transformation. (Source IDG).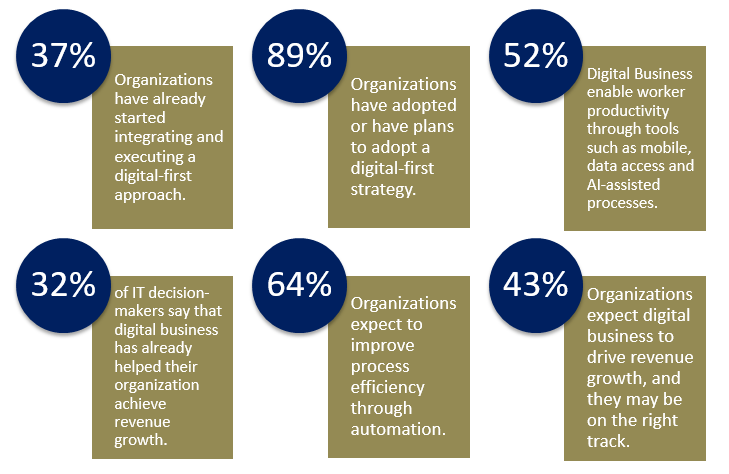 The Role of Cloud in Digital Transformation – Cloud computing is the backbone while shifting to digital. Not to forget, how considerably it reduces the total cost of ownership and brings agility into the business. On similar lines, with the use of cloud platforms enterprises can easily commission or decommission their IT infrastructure with ease. Moreover, cloud is an elemental foundation enabler of digital transformation, and this fact ensures to offer the right amount of speed and scalability that the business requires. In a digital transformation strategy developed in the cloud, CXOs and managers can accelerate execution of tasks, have decision-making capabilities and further extract actionable insights.
Here are few pointers that showcase the changes that take place after shifting to the cloud:
Collaborative as much as possible – Many work processes in a company have limited access, which is perfectly fine when there is a need to have restricted access. However, there is a fine line between having limited and restricted access. Through cloud computing, it is possible to access work processes from almost any part of the globe. Collaborating and performing together is highly possible after shifting to the cloud, it also helps in promoting teamwork capabilities at the workplace and eradicates communication downtime.
Automation all the way – With digital transformation, many processes are automated. As an example, the employee onboarding process involves a series of steps – right from document collection to remuneration further followed by team allocation. With automated service orchestration, complex IT applications or an end-to-end employee onboarding process can be fully automated.
Improve customer retention and acquisition – A digital transformation strategy has the capacity to reinvent the same offerings in a digitized way and provide access to larger audience/markets that are currently out of reach, eventually increasing the customer acquisition rate. In addition, current customers can be retained by shifting their legacy applications to cloud only to maximize efficiency and performance.
Disaster and shockproof – With cloud, there is no looking back in regards to securing data. With advance disaster management and recovery strategies, it is easy to secure and extract data from different availability zones. In a rapidly expanding environment, application resources like computing, storage, security and backup can be positioned globally and accessible a click away.
Flexibility is highly appreciable – Going digital means getting rid of the huge infrastructure costs that may slow down performance every passing day. In addition, the platforms that are available on the go help the organization to be flexible and agile. Moreover, mapping the performance of the architecture enables further flexibility and fault tolerant capabilities.
Cost efficient as it can be – Cloud is not only cost-efficient but also helps organisations to channelize their funds in making the brand a success. Organizations can only pay for the infrastructure they use as cloud offers a pay as you go feature. Besides, cloud also offers an option to scale up or down based on the requirements, there is additional saving in this feature. Analytics will provide accurate data of how every asset is performing and whether if there is a need to add more in the pipeline. Consumer behaviour will be analysed as well so if there is a need to pivot, the enterprise can seamlessly make the shift.

Cloud security and much more –

While moving to the cloud, security becomes an important aspect that should be prioritized right from the start. Most of the innovative concepts that revolve in cloud take place under a secured environment. Data encryption, network firewall, dedicated private connections, monitoring and logging, identity and access control are some of the features that can be considered while shifting to the cloud.
Do you have a prototype? Cloud is your key! – Enterprises that innovate, test and implement new applications are the ones to leverage the full potential of the cloud. Moreover, cloud provides platform options where companies can build, test and deploy their applications without having the need to set up a complex and infrastructure. During the transformation phase, organizations can innovate and prototype without having the fear of failing.
What happens when organizations do not shift? – This is a question which is faced by most organizations before taking the leap. By not shifting most companies would continue to run their legacy applications without having any need to improve and offer better. Applications that are built to run optimally on cloud would perform slow and would eventually fail if the architecture does not support scalability. Costs would be eventually high along with the extra workforce required especially to manage infrastructure. Organizations would miss huge opportunities that are trailing in cloud summits, conferences and events. Attending such events does open up doors for new business to bloom.
Introduction to BlazeClan Digital Services – BlazeClan incorporates revolutionary cloud technologies for our customers who want to shift/migrate to the cloud. In addition, backed by serverless computing, BlazeClan dynamically manages the allocation of multiple machine resources from different parts of the globe. And based on these solutions, our customers enjoy the benefit of having agility in their business, experience a reduced time to market along with easy scalability option with a decreased cost of operation. With 200+ migrations and deployments, over million gigabytes of Data Analysis and 10k+ instances of monitoring and management, we have certainly gained the edge in digitally transforming our clients' business. Digital Transformation is being universally recognized as the way forward in enabling seamless convergence, collaboration and disruption – thus sharpening an enterprises' competitive edge. And with microservices architecture expertise at hand, we develop, test and deploy independent applications that are easy to maintain, lightweight and highly configurable. Know more about our Digital Transformation offerings in the cloud here.
Digital Transformation Projects at BlazeClan – The shift from cloud first to cloud only is a phenomenal one, and digital transformation plays a major role in this journey. We are talking about adopting Digital Technologies, Digital Trends and New Regulations which are necessary for a successful digital transformation. Let us read more about our client – a leading entertainment provider in South East Asia who had opted for digital transformation as this would be a perfect example to describe this paradigm shift.
The company focuses on the pillars of watch, listen, read and shop as its offering of TV channels are delivered via Direct-To-Home satellite TV, IPTV and OTT platforms. Moreover, it aims to digitalize 75% of its current infrastructure, technology and processes. This move was a must for the company in order to serve better to its customers, ensure quicker go-to-market agility and have customer centricity in regards to new products and services. In fact, in order to achieve this sort of feat, the solution offered had incorporated analytical, cloud and mobile-first type of approach. Further enabling innovation and delivery of impeccably personalised experiences for its customers across all age groups.
For the client, BlazeClan introduced a micro-services strategy that ensured a smooth migration from their previous platform having complex and highly intertwined architecture. Their large monolithic applications and services were divided into supporting micro-services that were readily available and decoupled. Having highly decoupled applications and fault-tolerant systems delivered exceptional performance at all levels. Highly scalable features made it easily available during peak hours, a much-needed requirement for our client who is growing multifold.
With years of experience, we perform critical analysis of your current state processes and IT assets to define cloud strategy and journey map to deliver benefits to your business. Moreover, BlazeClan with its 230+ AWS accreditations and 100+ AWS certifications has proven to be a well-tested cloud consulting company. Contact us today and schedule an appointment to discuss how we can help in leveraging the benefits of Digital Transformation to your business.