The Journey so far
Born in the cloud, BlazeClan has been a member of the AWS Partner Network (APN) from 2011 and every year brings in new opportunities for providing cloud expertise. However, come 2017, we have successfully renewed the AWS Next-Generation Managed Services Provider Partner status and Big Data Competency this year.
With so many new customers joining the list, this is the third year in a row for winning this competency and status. Achieving this feat came after completing a stringent third-party validation audit. During this audit, we have focussed on showing our innovative Managed Services and Big Data solutions which have worked very well in expanding our clients' business multifold.
More on Managed Services Partner Program
The AWS Next-Generation MSP program highlights partners' excellence at delivering cloud-based solutions through a managed service model on the AWS platform. This third-party audit validates our deep expertise in helping enterprises from many industries to migrate, run and optimize their AWS workloads.
We have showcased our Cloud Management Platform (CMP, a SaaS-based platform) in-depth during this audit, and with our consistency for the third year validates the progressive path we are on.
It further reassures the fact that the role of a next-generation managed services provider has been challenging so far and important as ever before. As an APN Premier and Managed Services partner from 2015, BlazeClan leverages CMP features extensively to provide top-of-the-line managed services allowing our clients to focus on their core competencies.
Through the Managed Services offering, BlazeClan's team of SysOps & DevOps engineers manage cloud infrastructure by providing direct access and rich analytics of security, scalability, health, and availability of the cloud environment.
The CMP tool, which is a part of the Managed Services is capable of delivering 24/7 Monitoring, Alert Management, Service Management, Device and Application Discovery, Asset Management, Reporting, and Proactive Management. Furthermore, the CMP tool can also automate tasks and provide a detailed overview of the customers' AWS Cloud environment.
Leveraging Big Data Expertise
The AWS Competency Program grants AWS Competencies each year to APN Partners who have conceded a rigorous audit of their security, architecture, customer adoption and have exhibited proven success supporting customers evaluating Big Data tools, techniques and technologies on AWS.
BlazeClan has worked countless hours in achieving Big Data Competency; the achievement is based on the overall AWS implementation, customer success, and technical prowess of working with data efficiently, at any scale. Cloudlytics, a SaaS-based AWS Specific platform used for the collection of logs from multiple sources along with the quick and easy generation of dynamic statistics.
Built from scratch, Cloudlytics has been already integrated with AWS Cloud Trail, AWS VPC Flow Logs, OS System Logs, Trend Micro Deep Security Logs and many more. It enables our clients to analyze and deeply understand the requirements to protect their infrastructure from threats.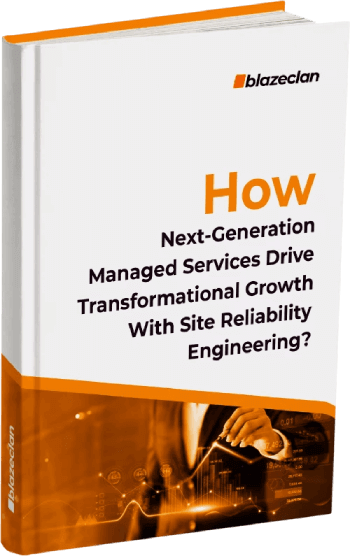 FREE RESOURCE
How Next-Generation Managed Services Drive Transformational Growth With Site Reliability Engineering
Big Data Use Cases
The Big Data competency program involved rigorous audits from a third-party firm who mapped the solutions that were offered in the current year.
BlazeClan's Big Data solution approach ensures our clients to define Big Data Analytics processes, adopt the right set of tools, build a cloud analytics engine and empower their business with actionable and operational business analytics. Our 5 step solution approach helps you to make the best use of data, the five steps include:
Data Discovery
Analytics Discovery
Tools and Technology Discovery
Infrastructure Discovery
Implementation
From the tools perspective, BlazeClan's Big Data armament consists of Kinesis, DynamoDB, EMR, Lambda, Qlikview and Amazon ML which are all part of the AWS family.
Let us have a quick look at the major Big Data offerings of 2017 and understand the real reason behind achieving the competency.
Use Case 1 – Atrium, a regional trade agency stimulating commercial developing for over 15years in Brussels wanted BlazeClan to modernize the way they collect, transform and visualize the data. We developed a web-based Big-Data analytics solution which was backed by a robust, flexible and scalable data warehouse.
With Big Data solutions, Atrium achieved a highly available system that catered demanding business requests. In addition, the strategising of this solution helped our client to achieve a huge amount of decision-making capabilities from the insights that were retrieved.
Use Case 2 – Our client, a multinational telecom giant has been working with us for years now. The client was looking to implement a BI solution on AWS, as it had all of its applications hosted on cloud infrastructure. As a solution, we deployed the AWS infrastructure along with the additional infrastructure for ETL processes and data warehouse.
The migration from RDS to Redshift helped our client a lot in decreasing the costs considerably. Moreover, the solution was a success in enabling superior system availability, also provided highly scalable features and was able to achieve a fault-tolerant architecture as well.
The Journey Ahead
The above project was amongst many that were validated rigorously for achieving the Big Data competency from AWS. The CMP tool was judged in-depth during this audit, only to succeed in all possible manner, something that BlazeClan had always envisioned based on the customers' feedback. These projects stand a testimony for years to come as we celebrate and excel to offer innovative and cost-effective solutions which not only delight the customer but also help in providing optimized cloud solutions.