If there's one thing that matters for a business to survive, it is about adopting to change. But if a company wants to lead, then it must create the change. IBM over the past hundred years since being founded has dared to now just invent products from the likes of ATM, bar codes to cognitive computing, but has managed to reinvent itself. IBM knows how to pivot.
Last week IBM announced an all cash deal to acquire Red Hat, an open source software solutions company at $33 billion. What strategic benefits could possible accrue to IBM for shelling out a third of its cash reserve to buy a company?
For the uninitiated, the cloud industry has two large building blocks: Hardware or a connected set of large servers, and a long tail of software including malleable operating system. While the hardware is sheer money power, the latter is where competitive advantages can be carved out by cloud service providers. This lead to evolution of IaaS to PaaS to SaaS.
Operating system on cloud is powered by open source software, baring parts of Microsoft's Azure, practically Linux based OS is the industry norm and Red Hat has been a pioneer in providing enterprise grade Linux services (RHVL, RHV) since the 90s. But IBM footing of $33 billion is a serious amount of money for a company whose revenue is only $2.9 billion, more than what meets the eye. Here are top four reasons.
The mini IaaS, the massive SaaS: Offering IT infrastructure as a service has gone to bottom of the pyramid in the cloud suite. Companies have evolved to offer ML and AI capabilities; IBM despite being pioneer of Watson, its cognitive computing, could be ceding ground to the likes of TensorFlow (ML library from GCP). Red Hat can make a difference here, for cloud services to work at light speed, the hardware and software has to be co joined seamlessly at kernel level; something Red Hat Linux has been doing for two decades now.
Hybrid Cloud: The trillion dollar sunrise market: in the words of IBM's CEO Ginni Rometty, companies have moved only 20% of their IT requirements to cloud and the 80% is up for grabs which is worth a trillion dollars, for that to happen, she claims, enterprise companies need a combination like that of IBM and Red Hat. Deciphering this is easy, companies want to keep some imperatives on-premise for enhanced privacy and security while moving non-core data to cloud; the classic hybrid model, or as Gini says it, Multi cloud management.
The web is what developers make of it: Linux at almost 22 million lines of code and a new release happening every 9-10 weeks powers some of the world moving technological use cases including Google's Android, the International Space Stations and more. A feat like this is possible because of the contributions Linux kernel enjoys from the vast open source developer community. Of all the companies that hires developers to contribute to Linux kernel, Red Hat is at second position after Intel, and IBM at eight. (Source pingdom.com).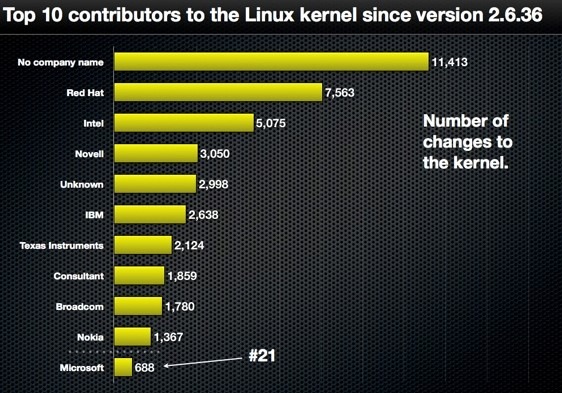 With deep pockets like IBM having vested interest in development of Linux, it all changes for good in favour of both IBM and the open source community.
A canonical business model that's in favour of IBM: IBM made a fortune selling mainframes, but capex spends on IT infra sounds atrocious in 2018 which means IBM can't push their big boxes of mainframes nor secure outsourcing deals anymore; nor can they wave a magic wand to become AWS or Azure. But who'll migrate the legacy systems sold by IBM in yester years to new age cloud today. In an interesting twist of fate, only IBM is qualified to do it; and backward integrating by acquiring Red Hat makes the transmission smoother for the migrating clients.
Did we miss anything? Leave a comment to discuss.