We all love Netflix, don't we? It is our go-to destination for any kind of entertainment we want, be it TV shows, movies or documentaries. Netflix now has a reach of 130+ million subscribers and is available in 190 countries. With these many users to serve they are the pioneers in providing the entertainment user wants in the highest quality possible.
But this was not served to them on a platter. Humongous efforts, creative thinking, understanding user needs, and some wise decision making took them where they are. However, managing the technical aspect of the entertainment business is one of toughest tasks in the tech world itself and Netflix has managed to do so, but they were not alone in this. It has been a long journey to the top but Netflix had an amazing partner in the form of AWS.
The beginning: This partnership started back in 2008 when Netflix suffered a major database corruption. Back in those days, Netflix was not the online media streaming service giant we know but predominantly a DVD-by-mail service and this corruption shook them to the root, causing a three-day disruption in the DVD shipping service. At this point, the Netflix team recognized they need to move on from their existing relational databases in their data centre, also away from those single point of failures which can be so disruptive for their business. The need was to move all their data centers to the cloud to reduce the risk of the data loss or corruption which will in-turn minimize the risk of the disruption of the service they offered to their users. After thoughtful discussions, a wise decision was taken which led Netflix to Amazon Web Service, which became the partnership to envy for others in later years.
The Journey: AWS was the perfect match for Netflix's business. The AWS Cloud not only offered the greatest ability to scale – something which was critical for a business growing at their pace – but also the greatest portfolio of services. Netflix's decision to move to the cloud was predominantly influenced by the rapidly increasing volumes of data they needed to handle. A glance at Netflix's growth chart will tell us that Netflix user base has grown about 14 times since 2008 and data volume rise in the same period is second to none. A recent report suggests that Netflix is way ahead than Youtube and Facebook in terms of data consumption as 15% of total Internet bandwidth available is being used by Netflix, while the number gets bigger in America. (Source Statista).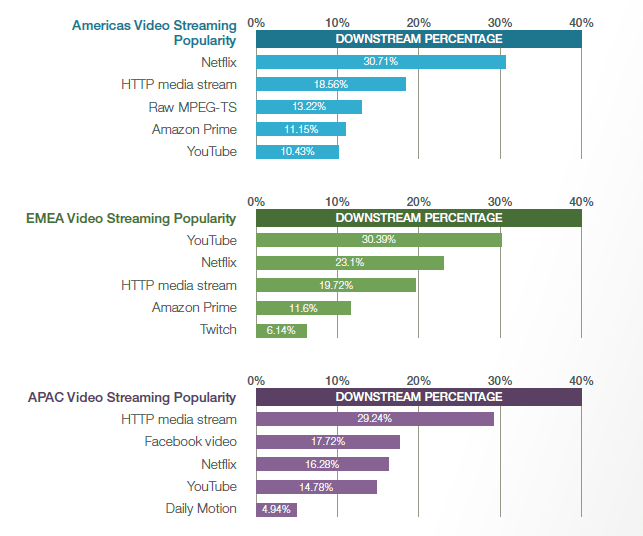 With in-house physical data storage facility, the scalability to this volume would have been really difficult for them. Netflix team even admits that it would not have been possible for them to gather the number of servers required if they were to try and match this high speed of growth on their own. With AWS cloud to their aid, it became a matter of few clicks to add a bunch of virtual servers which would add an abundance of storage to match the need of scaling at this rate.
Around 2009 Netflix also realized that they are going to be a company that will provide various kind of entertainment, not only to the USA but all over the world. The availability of AWS cloud service and regions all over the world helped them in a big way. The availability of AWS cloud centers all over the world made sure that the latency of servers was not an issue while providing the world-class entertainment to the end users.
Along with this journey of Netflix and AWS together, they went on to set some rules that they followed in the process of shifting their data centers to AWS cloud which are now considered the standard rules in the field of cloud services. These standards help AWS provide the elasticity with the optimum utilization of the resources assigned while keeping the latency time to the minimum. This helps Netflix provide users the uninterrupted entertainment they want or expect to watch every time they log in to Netflix.
Going Strong: After a seven-year process of migration to the cloud, in January 2016 Netflix had moved all of its video streaming business to the cloud. However, the company still uses their own data centers for their DVD business. This transition took seven years because they rebuilt their entire software platform to make use of the AWS cloud network to its fullest. They also created 'Chaos Monkey', which is a set of tools to reduce damage in case of disruptions.
Netflix uses many regions of AWS now, mainly Oregon, Northern Virginia, and Dublin. If one of them goes down then Netflix channels the traffic to other available regions in a blink of an eye. Netflix also has multiple backups of all data which is also stored in AWS services, while Distributed database Cassandra stores the customer data with multiple replicas of each item.
Simple Storage Service (S3), a service from Amazon is used to store primary backups of all the data. So any possible cause of disruption to their service, be it bugs or errors are dealt with the S3 backups.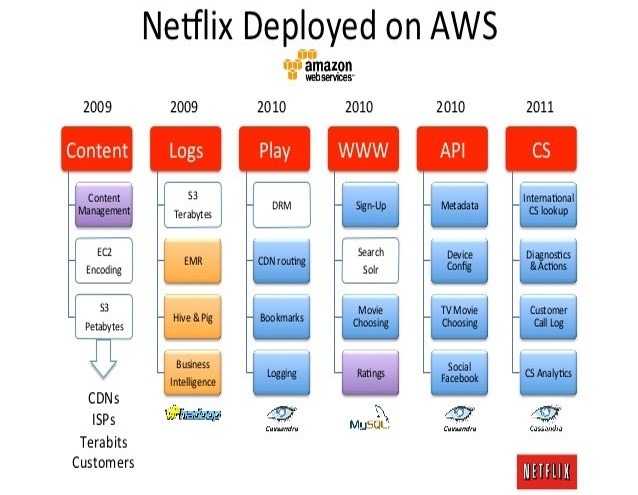 These all services from AWS cloud make Netflix an uninterrupted entertainment experience. So next time you lie down on your couch, enjoying your favorite movie or TV show on Netflix, spare a thought of thankfulness for AWS, as if not for them, there wouldn't be 'THE NETFLIX!'
So if you are about to take a big leap of moving your business to AWS as Netflix did, BlazeClan is here to help you conquer the world with your product or service. Having expertise in the field, we provide a thorough analysis of the currently implemented processes and stages in your current IT structure. With its 230+ AWS accreditations and 100+ AWS certifications, BlazeClan is a proven and trusted cloud consulting company. Contact us today and schedule an appointment to discuss how we can help in leveraging the benefits of Digital Transformation to your business.