Many brands, both small-scale in stature and enterprise-level corporations, utilize managed service support. They outsource their business and particular service-related tasks to Managed Service Providers (MSPs) to cut costs and improve operational performance.
The increasing usage of this service among companies would potentially grow its market value to $274.20 billion by 2026. Small-scale businesses cover a significant portion of the audience that caters to this high market rate boost.
Those looking to expand their business scope would require additional support for handling their complex internal procedures. They have more duties to manage, and outsourcing to certified Small-business MSP alternatives are helpful. In this article, we shall discuss this matter further.
What are Managed IT Services?
From a business perspective, the IT department plays a crucial role in the firm. They focus entirely on troubleshooting technical errors, software/hardware installation/maintenance, and network administration.
In small businesses, the number of staff members is lower. Many aspiring entrepreneurs do not have enough resources or budget to keep a big internal IT team.
Managed IT services is a better alternative in this regard. You can hire professionals from MSPs for your SMB IT services. Most businesses have a high demand for such services owing to the following reasons:
First, having higher pressure for creating innovative solutions that go on part with the changing advancements in technology.
Second, to adapt better to the volatile macroeconomic environment.
Third, to ensure extensive internal and technical expertise among the workforce.
Fourth, to meet the regulatory compliance demands.
What services do Managed IT services provide?
Managed IT services can provide a variety of services for a company ranging from network security to data backup and disaster recovery. Managed IT services are a business model where the company provides all of the necessary hardware, software and personnel for their client's IT needs.
These services are designed to offer companies with the peace of mind that they need when it comes to their technology infrastructure. They will provide the company with an IT team that is available 24/7 and will be able to respond quickly in case of an emergency. They also provide backup and disaster recovery services so that you have access to your data at all times, even in the event of a power outage or natural disaster.
Why managed IT services are good for business?
Are you worried about the safety of your business? Do you feel like it's not safe for your company to run without an IT expert on staff? If so, then managed IT services may be the solution for you. With managed IT services, you can be rest assured that your company's data is safe and secure. You will no longer have to worry about the security risks that come with managing your own IT infrastructure. These services are designed to be proactive and help you identify any potential risks before they happen.
Main reasons for hiring managed IT services include:
Improved uptime rates
Lower operating costs
Reduced risk of downtime
When are you ready to adopt Managed IT services for your small business?
While managed IT Services for Small Business firms are helpful, it is better to not invest in this unless absolutely necessary. In this regard, there are sure signs you should look at if you are considering this option for your company's management concerns. These indications are listed hereafter.
1. Noticing extra risks
Relying on digital services is a common choice for most businesses in today's time. However, the internet does open users up to a vast range of risks that can become hard to manage with time.
Many small businesses disregard problems like cyberattacks or malware issues. They assume that external aggressors like hackers would prefer to target bigger enterprises. However, in reality, statistics show 43% of cyber attacks happen to small businesses primarily.
Having a security system in place to protect the company's financial data and client's personal information is important. At this point, you can turn to MSPs to hoist up your internal security structure.
2. Expanding business structure
When smaller businesses begin to grow in their production scale and profits, they start focusing on expanding their operations. As the SMB owner, you have to add extra tools like computers and printers and upscale your workforce. The inventory also grows in quantity, and you have to invest in more software and hardware solutions to meet this demand.
Here, Managed services for SMB are useful for small-scale brands as a backup. The MSPs help with operational management, stock maintenance and tracking, and assist with hardware/software upgrades.
3. Personal device data management
At the current time, a lot of employees utilize more than one device to manage their company tasks, including personal devices. A study showed that employees use at least 2.3 devices for their business work; 74% of IT professionals use 2+devices while 52% employ 3+ devices daily. As a result, data management over multiple devices like cell phones, tablets, and laptops leave the company data open to risks.
For example, in some companies that require travel-oriented tasks, the multi-device operation is necessary to protect, not prohibit. To explain, these workers need to use handheld devices for their job since they cannot carry their work systems with them. So, small business entrepreneurs should impose specific protocols for data management for these employees.
MSPs can improve cybersecurity measures by implementing secure features like VPNs and 2-step authentication. In addition, they focus on password security, especially if more than one employee is accessing a shared business online system daily.
4. Time management
Small businesses still rack up a vast amount of data, regardless of their size and industry type. The staff at such firms cannot properly handle all problems on time. They have more responsibility in their respective roles and extra work to handle.
Here, even if extra security is not necessary, it is hard for entrepreneurs to ensure that all staff members are backing their files up and saving their data carefully. However, with managed IT services, these tasks become automated.
5. Need for skilled IT support
The IT department of your SMB may be in dire need of extra professionals who are skilled in their services. If that is something your company is lacking, depending on MSPs is better than hiring one IT expert or internal IT team. They can handle many IT service tasks, streamline management activities and cybersecurity measures.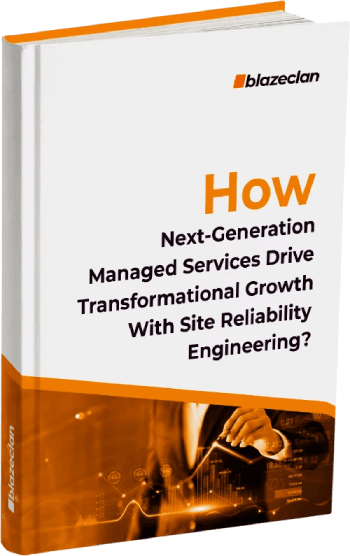 FREE RESOURCE
How Next-Generation Managed Services Drive Transformational Growth With Site Reliability Engineering
Benefits of Managed Services for Small Businesses
There are many prominent advantages of Managed services for small business and medium-sized firms. Consider them carefully if you are on the fence about why you should hire MSPs.
1. Data recovery and backup
One of the reasons why you should adopt managed services is because of the high-security data management benefits. Indeed, the system carefully and safely backs up all data, including customer's personal information and financial details.
You can safeguard your sensitive company data from external sources. Also, the MSPs conduct monthly or daily backups; this depends on the service provider and the package that you utilize.
2. Secure network
Cybersecurity, as mentioned earlier, is a common problem for SMBs. Reportedly, smaller businesses with less than 500 staff members spend $7.68 million to handle each incident. To avoid this, take the help of MSPs.
They monitor and control potential problems before they appear. In addition, these professionals upgrade the software and hardware and strengthen the cybersecurity measures quickly.
3. Mobile device/print management
With managed services, small-scale business owners can easily track their employees' online activities on company devices. Also, these services focus on print management. In the case of the latter, they monitor:
The type of documents the employees print on
Manage the compatible computer systems
Control the usage limit of necessary resources like paper, toner, and ink
Such services are useful for controlling the overall expenses of the businesses
4. Help desk support
Providing suitable customer care services is necessary for brands. But, for small-scale businesses, managing multiple queries can get cumbersome if they have a small staff. Here, managed services are useful for handling and resolving extra queries quickly.
The staff members also get an organized customer help desk system. After that, they can productively manage their customer complaints and calls systematically with MSP support.
5. Wide range of services
With MSP, small businesses get access to a wide team of skilled and dedicated IT professionals at their disposal. These experts have specialized training in different IT fields and services and hold years of experience. Plus, they provide focused guidance for the business they are working with at any time and for different types of issues.
How managed IT services can grow your business?
Managed IT services can help you grow your business by providing everything from IT support to network management. Managed IT services are not just about getting the latest technology for your business. It's about having a reliable partner who can take care of all the technical aspects of your business, so you don't have to worry about it. An effective managed IT service provider will offer you with a range of services that can help to grow your business such as:
A secure network that is constantly monitored to ensure its stability.
Access to the latest technology in order to make sure you are up to date with all the latest developments in security and data protection.
24/7 onsite support so that when your systems do go down, they can be fixed within minutes.
Ongoing training for your employees so they can be confident in their use of technology and know-how to stay safe online.
Conclusion
Overall, with the support of managed IT services, small scale businesses can excel in their field well. They can quickly manage issues, handle customer support tasks, and keep their records and data secure.
Before availing of this service for your business, though, you should properly research your options. There are multiple reliable MSPs available; check their credentials and past projects before selecting one for your brand.