About AIMS
AIMS INTL DWC-LLC is a global leading airline software supplier focused on the development and support of its state-of-the-art operations control, commercial planning, and crew management systems. Over 40 National Civil Aviation Authorities have approved AIMS, including EASA, FAR 117, and UK CAP 371. Since 1983, AIMS has witnessed over 180 successful installations globally.
The Need to Migrate Application Delivery Solution to Multi-Account Distributed Setup on AWS
The SaaS application of AIMS supports airlines in their operations and management processes. They had developed the application in-house and deployed it in their own data center managed by their IT team. This SaaS application of AIMS was using Citrix as the application delivery solution and MSSQL Enterprise Edition as the database. AIMS needed to scale its application on-demand with minimal downtime when a new customer is onboarded. For every new customer being onboarded, a new dedicated infrastructure was required to be set up, which in turn led to challenges of cost-intensive and time-intensive operations.
AIMS wanted to migrate their SaaS application to AWS, along with Citrix and MSSQL. Moreover, they wanted to leverage the MSSQL Standard Edition, while maintaining all their functionalities intact, to optimize costs. The end of the line was to achieve a fully automated, secure, and highly available architecture for the SaaS application along with the implementation of AWS Well-Architected best practices.

"AIMS is one of the world's leading Airline Software Suppliers dedicated solely to the development and support of its state-of-the-art Crew Management, Commercial Planning, and Operations Control Systems. To sustain our growth and innovate using cutting-edge tools, we took the strategic decision to move to AWS Cloud. Blazeclan was our partner of choice to help us successfully achieve this challenging objective. From designing, planning, and executing, Blazeclan demonstrated expert skills and hands-on experience. This made our journey to the Cloud rich, smooth, and full of learning experiences. I thank the Blazeclan team for their dedication and hard work throughout the months we spent together."
Spiros Koukos - IT Director for AIMS
Blazeclan's Solution
Blazeclan conducted a detailed assessment of AIMS' SaaS application architecture and understood that the main challenges were to
Migrate and implement Citrix application delivery solution to multi-account, distributed setup in AWS, as this was the first of its kind migration to be pulled off by Blazeclan and AIMS
Move to MSSQL Standard Edition to cut down costs while maintaining its capability to take application workloads and incoming traffic
Solution Approach
Following AWS Well-Architected best practices and CITRIX infrastructure best practices, the SaaS application along with its CITRIX solution was migrated to AWS. An architecture that is secure, highly available, and manageable was implemented, which catered to the smooth transitioning of all the existing customers of the SaaS application. Also, the challenge of creating a new infrastructure from scratch, every time a new customer was onboarded, was resolved through automation on AWS.
Using Amazon FSx for Windows File Server, Blazeclan established shared storage for all database instances of MSSQL Standard Edition spread across different availability zones. This allowed data accessibility irrespective of the availability zone the data belonged to.
Benefits Achieved by AIMS
Cost optimization was remarkable, considering the databases were moved from the Enterprise Edition to the Standard Edition of MSSQL while keeping the functionalities intact.
Automation was enabled for the creation of new infrastructure every time a new customer was onboarded on the application.
The overall security & compliance of the infrastructure was improved significantly.
A fully-customized infrastructure monitoring & alerting system was implemented using Amazon CloudWatch.
For repetitive and reliable infrastructure provisioning, AWS CloudFormation was used to enable infrastructure-as-code.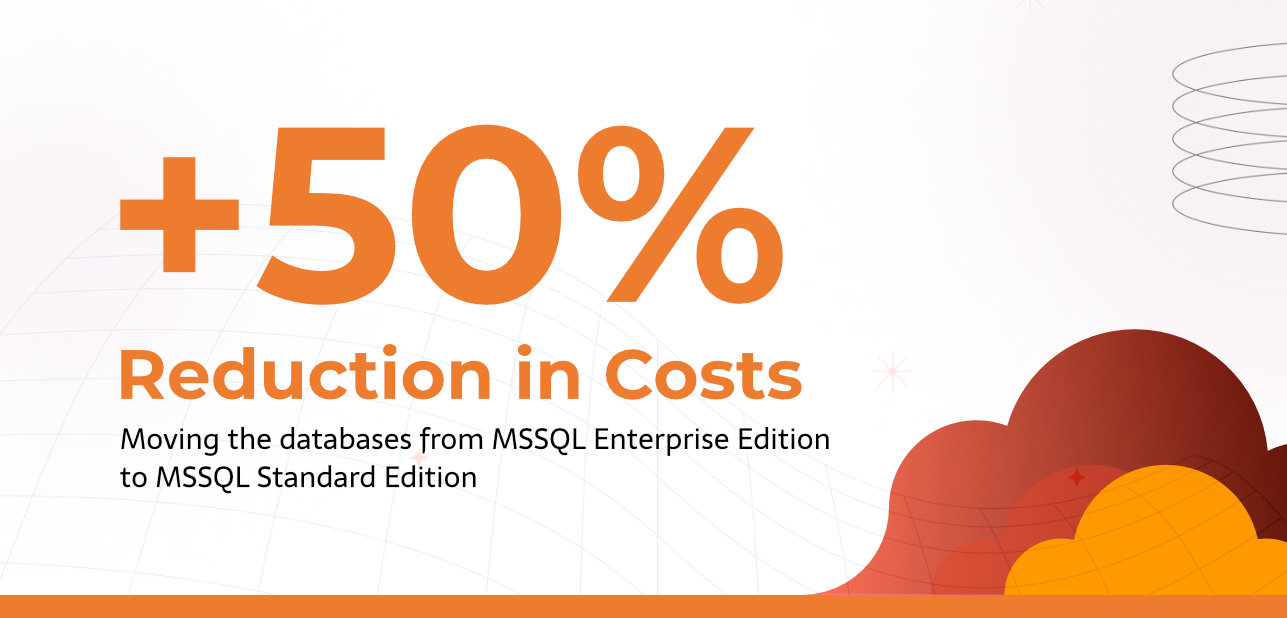 Tech Stack
| | | |
| --- | --- | --- |
| AWS Control Tower | AWS CloudFormation | AWS Directory Service |
| Amazon FSx for Windows File Server | AWS Transit Gateway | Amazon SES |
| Amazon CloudWatch | Citrix ADC | MS-SQL Standard Edition |