Last weekend we witnessed some of the best innovative sessions at BlazeClan. Millennials were making a buzz with their fresh new ideas in the four walls of BlazeClan. CodeStellation, a hackathon event conducted on 20th January was a smashing success for the second time. CodeStellation is a think-out-of-the-box programming-focused hackathon designed to inspire the creative and dynamic young guns. And this is exactly what happened last weekend when the event was kicked-off at 8.30am.
Participants of CodeStellation 2018 were equipped with AWS Platform and were provided with certified AWS Solution Architects to support their innovation. This is where our team members put their usual job aside to work on a project which they think can rocket launch with the proper guidance. CodeStellation went on for grueling 12hrs on a Saturday, as the coding part consisted of straight 10hrs and remaining 2hrs for presenting the idea. We had 4 teams having 4 members per team taking part in the event, and all the 16 members were coding their brains out during the first session. In addition, as a gesture to kickstart their AWS journey, all the participants received 100 credits to use AWS services. Did anyone mention the amount of food that we all munched on? From pizzas', sandwiches to health drinks, the hackathon was packed with energy drinks and food items that could keep hunger at bay.
CodeStellation 2018 is all about developing innovative concepts and bringing them to life on the go. Furthermore, the participants could explore how AWS tools could be implemented in simplifying their invention. I guess, the real challenge was by adhering these simple rules of hacking which were abided by the teams very well:
1) Mandatory automation for delivering better
2) Making use of popular technologies
3) Ethical Hacking
Here are the key highlights and team details that took part in CodeStellation 2018:
Ideators

–

A team of 4 high on automation! They had this amazing concept of saving energy at the workplace by use of sensor technology. The entire automation was coded and embedded in a mobile application which could be accessed as an when required.

CryptoRaptors

–

The brave hearts of the lot! They had their coding sorted and were smoothly able to perform sentimental analysis of a brand by calling Twitter API's. Based on the posts of a particular brand's Twitter account, these geniuses seamlessly extracted results which could help the user in making decisions.

Hackeneurs

–

Hackeneurs were ahead of their competition at all times. They developed an eLearning web application which had History, English and Math subjects for students. For History, a Lex chatbot based application was created which could reply to the questions asked in regards to Mahatma Gandhi. For English, the application could convert Shakespearean English to modern day English through Tenser Flow library. For Math, the application required images of a mathematical equation which could be processed through MathPix library as solutions. The team had additional time in hand where with th

e use of Amazon Face Rekognition they implemented a login mechanism for accessing a web portal. They also created a fun time app by identifying the mood of the child by making him/her appear in the web camera. The app through AWS Face Rekognition could easily identify if he/she is happy, sad, frowned or relaxed.

Aakar

– This team was quite adaptable to their innovation. Based on their analytical skills this team was giving a hard time to its competitors.

The application could perform

predictive analytics on cryptocurrencies like Etherium and Bitcoin. Through their innovative algorithms they could predict the ups and down a cryptocurrency had faced.
Out of these mind-boggling sessions, the enthusiasm and excitement showcased by everyone were worth it. The participants had this never-ending passion to innovate and bring a change in this hackathon and at the end of the day, they were all winners doing something creative and innovative in their own way. But as a hackathon, we had to select the best team, a crème de la crème from the lot. Team Hackeneurs had brought innovative concepts to the table along with the use of Amazon services which was mandatory in this hackathon. All the participants had the opportunity to be absorbed by BlazeClan as they rocked all twelve hours of CodeStellation 2018. Apart from the internship at BlazeClan, the participants were given hack medals, trophies and certifications to boast their innovations.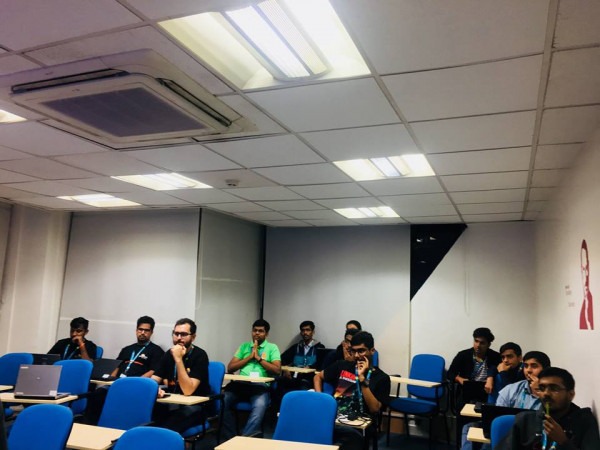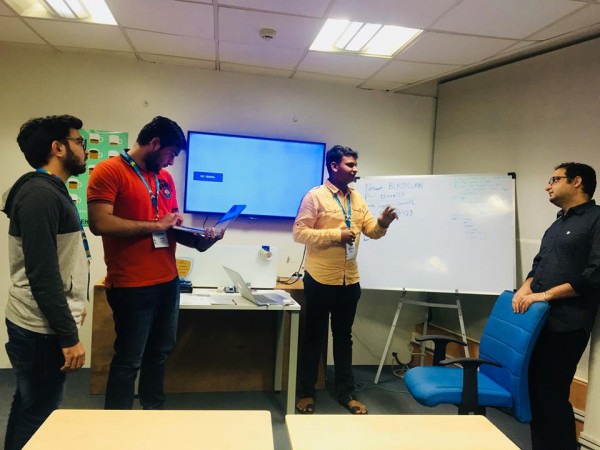 Want to hack on your career path? Check out open opportunities on the BlazeClan Careers page!