Digi Osmosis is a digital-first organization that helps its customers create, design, produce and innovate on digital platforms. The company had a health & fitness application, SS, in place, which offers various wellness programs such as yoga, meditation, fitness, fat loss, and diabetes control.
Digi Osmosis wanted the application platform to be high-performing, secure, and reliable while enabling a reduction in the operational costs and time. Blazeclan advised the customer with the essentiality and strategy to host their application on AWS cloud and fulfil their requirements.
The Need to Host the Application Platform on AWS Cloud
Digi Osmosis partnered with Blazeclan with an objective to make their health & fitness application platform highly scalable and available. The application needed constant upgrades and deployments as per changing market dynamics, which involved frequent downtime. As it is a celebrity fitness application, client was concerned about security measures. Blazeclan understood the requirements of Digi Osmosis in detail and partnered with them to host the application on AWS cloud to meet their objectives.
Blazeclan's Solution to Meet Customer's Requirements
The health & fitness application put forth by Digi Osmosis was thoroughly analyzed by Blazeclan. The customer was then advised that they will need to move their application to AWS cloud, if they had to meet all their requirements efficiently. The application was assessed along with its workflow, features and functionalities. Continuous communication with the customer helped us in understanding their requirements completely and designing a robust AWS infrastructure setup.
Blazeclan's solution helped Digi Osmosis transform their application to be dynamic and agile. The application is hosted on iOS as well as Android. The solution architecture was designed by following the AWS 5 Pillars of a Well-Architected Framework, which involved
Creation of effective mechanisms to make frequent, minute, reversible changes to the application, anticipate failure, and enhance operational readiness.
Identity and access management to allow Digi Osmosis follow the principle of 'Least Privilege', i.e. giving every user/process permission required to perform the jobs. A strong identity foundation was implemented for the application, along with enabling traceability, applying a multi-layered security and being ready for security-related events.
Meeting Digi Osmosis' requirement for the application to have sufficient, scalable compute and networking capacity, while enabling them to change resource allocation and size on demand.
Resource virtualization to facilitate achieving operational efficiency by enabling features to improve performance of the application. The solution enabled the application to reach users globally with minimum latency.
The capability to drive efficient usage, thereby enabling a reduction in the operational cost and time.
How Did It Benefit The Customer?
Availability: The solution allowed the application to serve global users with maximum availability and minimal latency. This further enabled it to become the 'best application for personal growth' on Google Play as well as 'application of the day' on the Apple App Store multiple times.
Scalability: Digi Osmosis was able to achieve high scalability for its application and manage traffic at peak loads during promotional activities. It also helped in providing the application with a high-bandwidth and a secure connection between workloads.
Cost-Effectiveness: The solution opened up the possibility of optimizing cost for the application. The pay-as-you-go model suits the Digi Osmosis' requirements well. The benefit of cost optimization enabled them to have better control of their overall IT budget.
Security & Compliance: The application infrastructure was made highly secure and compliant to industry standards, adhering to CIS Best Practices. By enabling WAF, suspicious traffic has been blocked and prevented. The solution also involved use of our proprietary security tool Cloudlytics for continuous event and log monitoring, thereby maintaining a robust compliance posture.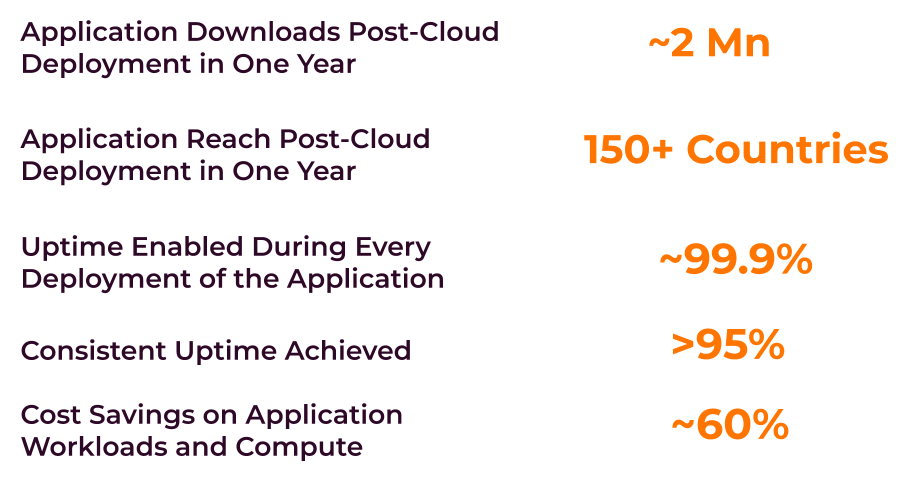 Tech Stack
| | | |
| --- | --- | --- |
| Amazon RDS | CI/CD | Amazon Elasticache |
| AWS Auto Scaling | Amazon ALB | Amazon EC2 |
| Amazon S3 | Amazon WAF | Amazon CloudFront |
| AWS CodeDeploy | AWS Lambda | Bitbucket |