Etek is a leading solutions provider. Their business-oriented solutions are powered with well-positioned cybersecurity technologies. The company has powered many leading technology providers with cybersecurity solutions. They partnered with Blazeclan for hosting their website on Azure cloud, which was previously hosted on a shared web platform.
The Challenge
Etek's website was hosted on a shared web hosting platform. They wanted their website to be highly available, scalable and agile. As their website was on a shared web platform it involves key challenges, such as
Insufficient security
Lack of flexibility and scalability
Lack of customizable features
Lack of control on resources that back the hosting of the website
The Solution
Blazeclan understood the requirements of Etek and advised them to host their website on Azure cloud. As a long term solution, Azure was chosen as the cloud hosting platform keeping security, scalability, and availability as the primary agenda.
The Approach Followed:
The company's infrastructure was deployed in Azure VNet with the whole network solely reserved for ETEK. Azure Cloud Hosting Enabled Etek to See ~40% Performance Improvement in their Website.
The website contents were migrated to Azure Linux VM which had Azure Application Gateway in front of it.
The Azure Application Gateway acts as a layer 7 Load Balancer and WAF performing SSL offloading, load balancing and providing security against various web vulnerabilities.
Automated Backups were configured using Azure Backups with predefined retention and frequency.
Benefits Achieved by the Etek
Better Security: Use of Azure application gateway with a layer 7 load balancer and WAF helped Etek in securing their website from malicious activities and cyberattacks. The security of the website was considerably enhanced post-implementation of the solution.
Resource Isolation: Vnets have been created specially for the company's website, for a seamless Azure cloud hosting. This helped them in the isolation of resources, which in turn enabled complete visibility and control of all resources.
Automated Backups: The solution delivered the company with automated backup of their Azure cloud-hosted website. This will help them in quick data recovery in case of failures or disasters.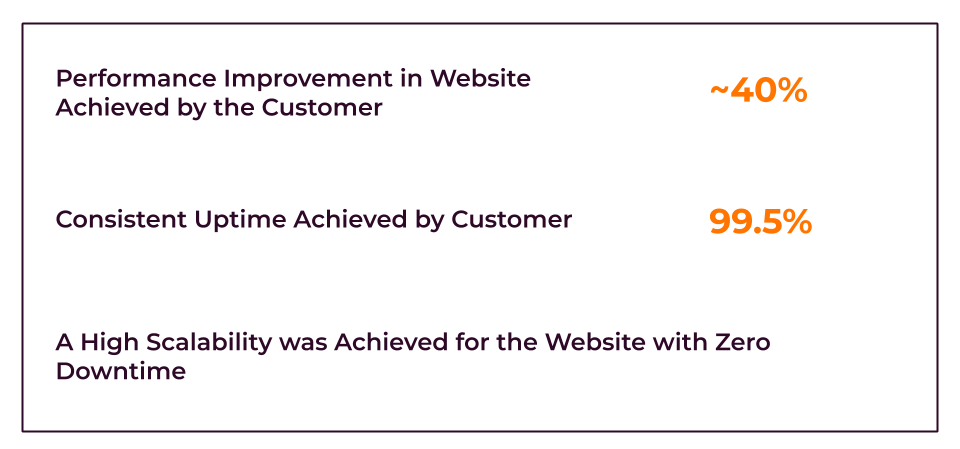 Tech Stack
Azure VNet
Azure Application Gateway
Azure Backup
Azure Load Balancer
Azure App Service Certificate