Telekom Malaysia Berhad (TM) is nation's leading integrated telecommunications provider that is on a continuous journey of enhancing and elevating the nation's telecommunications technology and services toward delivering connectivity to all Malaysians. They approached Blazeclan for help in building a reporting solution that performs sentiment analysis on Twitter and community forum data in near real-time.
The Challenge
TM was looking into a comprehensive solution to enable near real-time & better visibility of TV viewership in view of their ever-increasing data. By understanding the customers' viewing behavior, TM intended to make data-driven decisions to grow their business.
Key Analysis Areas Included
Actual user engagement at a particular hour which can be drilled down to respective channels.
Visibility of new or repetitive users based on daily interval.
Time vs. day user engagement to understand user behavior & identify peak viewing hour/day.
User engagement duration with a particular channel (average time spent)
The Solution
TM partnered with Blazeclan in developing a Near Real-time Viewership Dashboard. Blazeclan came up with a solution leveraging AWS Glue & AWS Lambda for processing the voluminous data. The approach involved the use of multi-node AWS Redshift cluster. This cluster brought scalability & efficiency in query resolutions for TM. For visualization purposes, AWS QuickSight was used in combination with SPICE for a rapid, real-time, in-memory calculation & analysis. This was engineered for rapid, advanced calculations & providing near real-time data for the dashboard.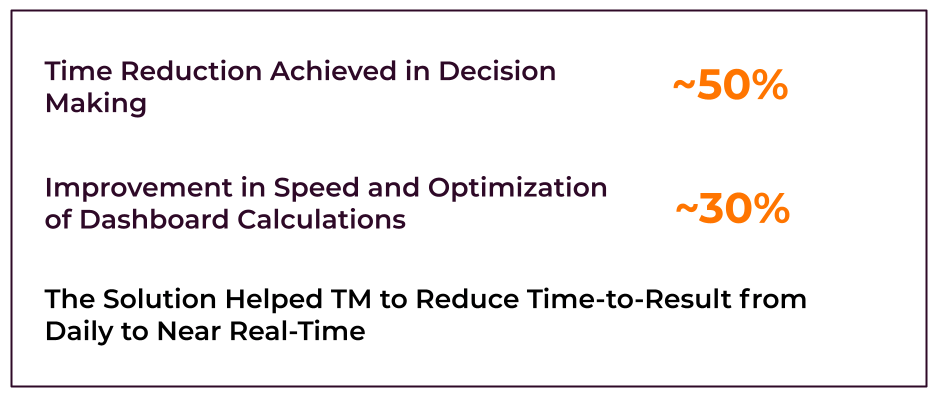 The Approach
AWS infrastructure implementation.
Data ingestion and data preparation.
Dashboard development.
Data warehousing.
Iteration, evaluation, and streamlining.
Architecture Diagram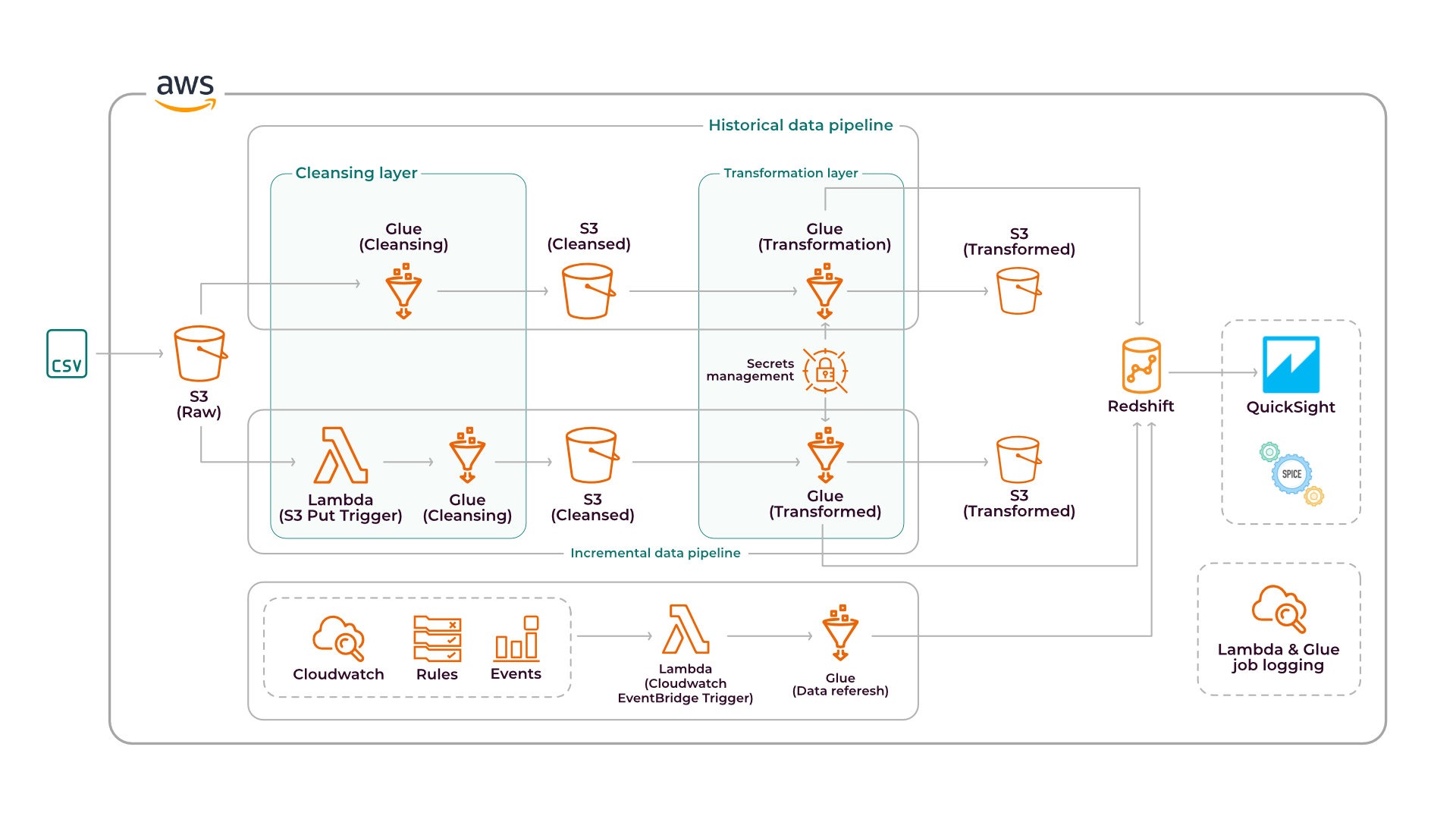 Benefits Achieved by TM
Actionable Insights: The cloud-based data pipeline and BI dashboard enabled TM to get actionable insights on their user viewing patterns and trends for making better decisions and bringing overall improvement in end-user experience.
Serverless Architecture: TM was offered with a serverless architecture that enabled greater scalability, high flexibility, and faster time-to-release. They were able to achieve all this while maintaining cost-effectiveness.
High Performance: The solution offered TM with the ability to perform complex calculations at scale. This was done by using an in-memory engine, SPICE, for faster load times and automated, periodic data refresh.
"It was a privilege for us to work with Blazeclan, a highly committed partner, who has helped us in accelerating our journey embarking on AWS cloud analytics solutions. Leveraging on their expertise & experience, we have together excelled in achieving the expected outcomes from the project."
Iffah Illani Ismail, Head of Business Intelligence & Analytics, TM
Tech Stack
| | | |
| --- | --- | --- |
| Amazon S3 | AWS Athena | AWS Glue |
| Amazon QuickSight | AWS Lambda | Amazon CloudWatch |
| Secrets Manager | Amazon Redshift | |