Everyone knows how to safeguard or secure the predominant physical assets. Either you will engage a security guard or install a camera to keep tabs on your valuable item. But would you ever think about the most relevant thing that needs to be secured? The data. Either, It will be your company's data or the most unguarded credit card information.
In the digital world, no one bothers about the consequences of threats until it's too late. So what's the solution? First, to screen the data, MSSP comes into the picture.
What is a managed security service provider?
Managed security service provider definition says it provides the most steadfast security to the digital world.
MSSP organisations monitor your networks, digital infrastructure and alert the customer with suspicious events (including viruses, spam, intrusion detection, hacking and DDOs attacks). If infringement occurred, they would take the measures to help the client respond effectively to the intrusion to minimise the damage and increase monitoring and management service to prevent future incidents.
How does MSSP work?
Consistently organisations have started investing in Managed security service providers for their unfortified data. However, the discerning threat demands skilled and efficient expertise to monitor and manage the vulnerable data for a 24x7x365 basis. Does this raise the question as to how the MSSP words? Let us configure about it:
The practical and potent cybersecurity solution needs to protect your data and business on three major forefronts:
1.Hunt and capture
MSSP hunts the security threats with every movement of the clock. This derogatory approach is crucial to prevent prior breaches. Whatever be the potential of danger, you need to alert within fifteen minutes to take action efficiently on anomalies.
2.Supervise firewall
Supervise firewall aid to keep unauthorised users out, secure the network configuration and safeguard the sensitive and valuable information from prying eyes.
3.Administered endpoints
Servers, laptops, numerous smartphones, and tablets have access to your network, which increases the potential risk ( as multiple access points mean higher risk) if it is not appropriately handled. MSSP identifies threats and secure data whenever it gets accessed.
What are Managed Security Service Providers (MSSPs) used for?
Anyone who uses the internet is open to cyber attacks. When these attacks knock the threats on data, it becomes a matter of concern for businesses and organizations. To counter these attacks, MSSP takes the responsibility to secure the company data.
MSSP is primarily used for eradicating cyber attacks and providing security alerts on essential data. In addition, the security service provider looks proactively at network movement, malicious activity at endpoints, and anomalies to take measures accordingly.
What is the difference between MSP & MSSP?
Here are the main differences between MSP and MSSP:
| MSP(Managed Service Provider) | MSSP(Managed Security Service Provider) |
| --- | --- |
| MSP stresses the healthiness of business technology. It looks over the data and substantiates that the data is accessible to both customers and employees who need it. Whenever there are complications in technology and trouble accessing the data, MSP helps to solve the issues. | MSSP works in the cybersecurity and network framework to monitor and manage the security of the data. It makes some alterations and ensures only authorised users and clients who need to access data can retrieve the information. |
| MSP works on efficacy and performance. | MSSP focuses on the security of data. Detecting, prohibiting, and actively responding to the threats that cause harm to the data. |
| MSP recommends fixing the bugs, suggesting the system updates, if any, work in threat detection fields. In simple words, MSP is used in technology administration. | MSSP works with one step forward. It prohibits and responds to threats. And always scan for malicious activities. So it works in technology security. |
What are some benefits of an MSSP?
Well-grounded to uphold the organisation's employees, as with day-to-day demand of work, the employee has a stack of work, and they need to focus on the company's core work. In addition, by coordinating with MSSP, they will provide security to the company network, which will benefit the company to provide better output to the customers.
Most organisations can't afford cybersecurity teams, but without security, the company can suffer a considerable loss and demolish all the essential data. With collaboration with MSSP, a company gets an instantaneous approach towards network security with the help of professionals, which helps build good network security with skilled experts at a reasonable cost.
Extensive response and defend proficiency of MSSP help in cyber networking and update technology to combat the prying eyes with their attacking vectors. This will prevent the information from future attacks.
By investing in particular technology might not work with future hacker's tactics. New technology like IoT and cloud invites more threats to the network. So cybersecurity must revolve around response and defend methods. MSSP works effectively with any landscape of threats.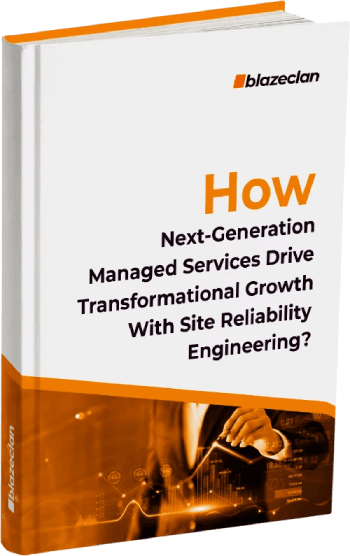 FREE RESOURCE
How Next-Generation Managed Services Drive Transformational Growth With Site Reliability Engineering
Categories of Managed Security Services
MSSP helps businesses and organisations to meet cybersecurity needs. But all MSSP are not the same. Here are the categories of MSSP and their descriptions.
1. SIEM Management
Security information and event management (SIEM) store a humongous amount of data in the context of security and network. However, it also produces noise and stores irrelevant data, which will not serve any purpose to clients.
2. Network Architecture Maintenance management
This management focuses on the architecture of network security. It comprises the heterogeneity of small services such as updation on the security system, preparing security reports for review purposes, and advice for future data protection.
3. Cybersecurity Services for on-the-spot checking and Staff settlement
This management helps to provide the temporary staff in the team to take charge of cybersecurity tasks. This usually happens when there is a need to implement new security measures to the systems. Or someone is missing from the team due to illness or some other reason.
Filling vacant space in the team helps to regain stability during that period which is compromised due to the absence of staff.
4. Threat Detection and Alerts management
(IDS)intrusion detection systems or (IPSs) intrusion prevention systems, and SEIM are the methods used by MSSP that makes them differ from other specific security controlled groups for detecting malicious and ambiguous activity.
5. Management for Security Endpoints
Endpoint security management is the most commonly used MSSP. This helps organisations with their endpoint devices to ensure the bold surface for attack.
How to evaluate a Managed Security Service Provider?
The first step is to check your requirements to help you provide expansion and diversity of your company. Then evaluate the MSSP to meet your needs. Finally, try to pinpoint MSSP, which comes upon the MSSP good services, capabilities, response and detection systems, cybersecurity associated services, their services guarantee.