A leading player in asset management had the objective to migrate and deploy their infrastructure from on-premises to the AWS cloud. The company was looking to deploy their infrastructure on the three-tier architecture.
The Need for AWS Cloud Migration
Being an asset management giant, the company's major focus was on achieving high scalability and availability, eliminating any human intervention. The customer wanted to explore and leverage AWS services to improve their customer experience.
The Solution Approach Followed to Meet Customer's Requirements
Blazeclan's team of AWS-certified solution architects helped the customer deploy their infrastructure on the AWS cloud. This involved security parameters set up, network configuration, and access management. The team leveraged cloud-native security and network configurations for the deployment of customer's infrastructure on AWS cloud. The solution was implemented through the following approach.
All the services and network configuration were deployed inside a VPC.
AWS Direct Connect Gateway was established between corporate and AWS data centres for securing access to the cloud infrastructure.
Only elastic load balancers (ELBs) were placed in a public subnet, as the internet-facing and backend servers were placed in private subnets.
The Production setup was configured in a containerized environment using AWS ECS, placed in an auto-scaling group (Multi-AZ) for high availability and scalability.
RDS Aurora Postgres was used for the database.
Security and Compliance
By leveraging Amazon Web Services (AWS), which provides a robust security and compliance framework, Blazeclan ensured comprehensive security for customer's business-critical applications on AWS. We also advised the customer to follow AWS best practices to strengthen their security even further and continuously thwart attacks.
Benefits Achieved by the Customer
Scalability: The customer's cloud environment was automatically able to spontaneously adjust its infrastructure to any alterations in user demand.
Flexibility: The solution enabled the customer's IT environment to run smoothly and consistently meet the evolving business demands. This further enabled the customer to realize a remarkable performance improvement.
Improved Security and Compliance: With robust control policies, the customer was able to meet the compliance obligation. Real-time security auditing and compliance helped the customer to meet the RBI audit compliance guidelines with a healthy rating.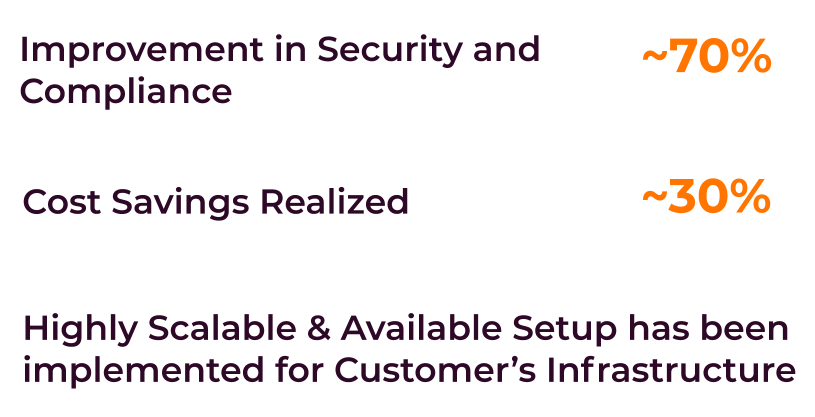 Amazon EC2
Amazon ECS
Amazon S3
Amazon CloudWatch
AWS CloudFormation
Amazon VPC
Amazon RDS
Amazon ELB
AWS Direct Connect
AWS Auto Scaling
CI/CD Pipeline